Phemex review: Phemex stands as a swiftly emerging crypto trading and investment platform, known for its user-friendly policies and ease of access.
In this article, we will cover the entire Phemex exchange in detail. What Phemex is, how it works, what its uses are, and who can benefit from it. What key features are there? Reputable or scam? its pros and cons.
So let's learn about Phemex review with English tivi right now!
Phemex Review Overview
✅ Official Website
https://phemex.com/
✅ Headquarters
Singapore
✅ Found in
2019
✅ Native Token
None
✅ Listed Cryptocurrency
BTC, ETH, BCH, LTC, USDT, and more
✅ Supported Fiat Currencies
Yes
✅ Trading Pairs
220+ Cryptocurrencies
✅ Clients Accepted from
Worldwide with few exceptions
✅ Minimum Deposit
Depends on Trade Currency
✅ Deposit Fees
No fees to Deposit Cryptocurrency
✅ Transaction Fees
Taker:0.075%
Maker:-0.025%
✅ Withdrawal Fees
Depends on Currency
✅ Platforms Available
Web, Mobile
✅ Mobile App
iOS, Android
✅ Payment Types Accepted
Credit Card, C2C
✅ Customer Support
Live Chat, FAQs, and Submit Complaint Support
What Is Phemex?
Phemex emerges as more than just a cryptocurrency trading platform, encompassing a wide range of offerings akin to modern-day crypto exchanges. By incorporating copy trading, trading contests, and an attractive earning platform, all supported by a highly efficient professional-grade platform and trading engine, Phemex strives to establish itself as a sanctuary for crypto traders.
Beyond the realm of conventional crypto spot and derivatives trading, the Phemex exchange boasts an extensive array of beneficial features and functionalities. In this review, we will delve into each of these components. Moreover, for those intrigued by historical connections, it is worth noting that Phemex derives its name from Pheme, the Greek Goddess symbolizing fame and fortune.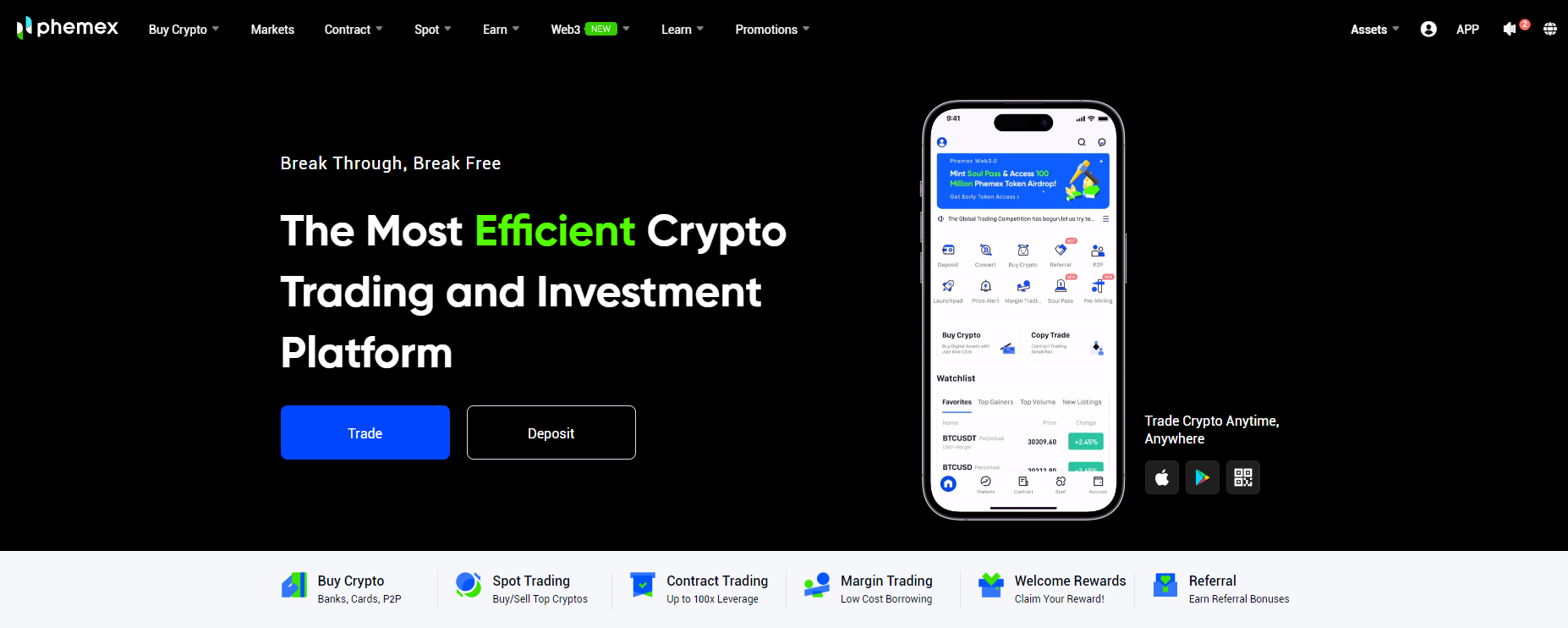 Emerging as a relatively recent entrant in the industry, this exchange has made remarkable strides since its establishment in late 2019. Despite its brief existence, it has already achieved noteworthy milestones, highlighting an impressive track record. However, there are specific areas that require further refinement and enhancement.
Phemex, a Singapore-based company registered under Phemex Pte. Ltd., holds steadfast project values and pursues an admirable mission. The company has established clear development goals that warrant recognition. These goals are as follows:
Embrace change: Phemex acknowledges the prevalence of unpredictability and understands the significance of adapting continuously. By embracing change, the company aims to emerge stronger after each substantial transformation.

Act swiftly: Driven by a purposeful mission and vision, the Phemex team is committed to providing the best possible experience. They operate with a sense of urgency and boldness, recognizing that user satisfaction is the ultimate driving force.

Empower individuals: Phemex is dedicated to fostering a fair trading environment and equipping users with exceptional wealth management tools. Through enabling effective risk management, Phemex empowers individuals, celebrating their success as a testament to their traders' achievements.

Remain humble: Phemex understands the value of humility and actively listens to diverse perspectives. By consistently evaluating and improving themselves, they strive for ultimate success while maintaining a humble approach.
Phemex aspires to establish a robust presence in the industry and contribute to the success and satisfaction of its users.
Phemex is a cryptocurrency exchange that offers a referral program to its users. You should use referral code us: D4J5A5 to get a discount or other benefits when you sign up for an account on the exchange.
| | |
| --- | --- |
| ⏩ Phemex Exchange | Sign Up / Register |
| ⏩ Sign Up for Bonus | $180 + 20 off fee |
| ✅ Valid | Today |
| ⏩ Referral Code | D4J5A5 |
| ⏩ Refer and Earn |  earn up to 50% trading commissions |
Phemex Review: Pros and Cons
Pros
High Leverage Trading: Enjoy the flexibility of up to 100x leverage trading.

Sub-Account Creation: Easily create sub-accounts to manage your trading activities efficiently.

Extensive Cryptocurrency Support: Access a wide range of cryptocurrencies for trading purposes.

No KYC Requirements: Trade without the need for Know Your Customer (KYC) verification.

Community-Focused Approach: Engage with a vibrant community of traders and enthusiasts.

Advanced Order Types: Take advantage of multiple advanced order types to customize your trading strategies.

Modular User Interface: Experience a user-friendly interface that allows customization and adaptability.
Cons
Trading Restrictions for US Citizens: Trading on our platform is not available for US citizens.

Comparatively Lower Liquidity: Please note that our platform may have lower liquidity compared to larger players in the market.

Limited Support for Fiat Currency: We currently do not support trading or transactions involving fiat currency.

Absence of IP Whitelists: Our platform does not have IP whitelists in place for user access control.
Is Phemex Safe?
The team behind our platform brings extensive experience in the business world, boasting a collective 40+ years of expertise in delivering high-frequency technology solutions. Notably, the team is led by eight former executives from Morgan Stanley, lending our platform a high level of trustworthiness.
To ensure the security of funds, our platform utilizes an HD Cold Wallet System. All funds are periodically transferred to a multi-signature cold wallet through offline signatures. Additionally, we leverage Amazon Web Service (AWS) Cloud, a renowned industry leader in cloud-based security and safety, as our hosting service. Our trading zones are isolated from the internal network by firewalls, providing an extra layer of protection. SSL technology and PCI scanning further enhance the platform's security measures.
With our robust recovery system, users can expect an impressive 99.99% availability. This reliability can prove to be a game-changer as Phemex stands the test of time. However, it's important to acknowledge that being a new player in the market, we anticipate encountering major challenges, including potential hacking attempts or market fluctuations that can strain even well-established platforms like Coinbase or Kraken.
Phemex Exchange Key Features
Spot Trading
Phemex offers a user-friendly trading experience that will feel familiar to those who have used trading platforms before. The platform adopts a standard modular design for the trading screen, akin to other crypto exchanges. Moreover, it harnesses the widely acclaimed and robust TradingView charting interface, ensuring a powerful and popular tool for traders. This versatility makes Phemex suitable for traders of all proficiency levels, catering to the requirements of even the most advanced technical analysis enthusiasts.
With TradingView seamlessly integrated into Phemex, users can easily access a comprehensive range of essential trading tools directly from the platform's trading screen. This integration guarantees convenience and immediate availability of the tools necessary for successful trading. With unlimited indicators and highly customizable screen modules, traders have extensive flexibility in tailoring their trading experience.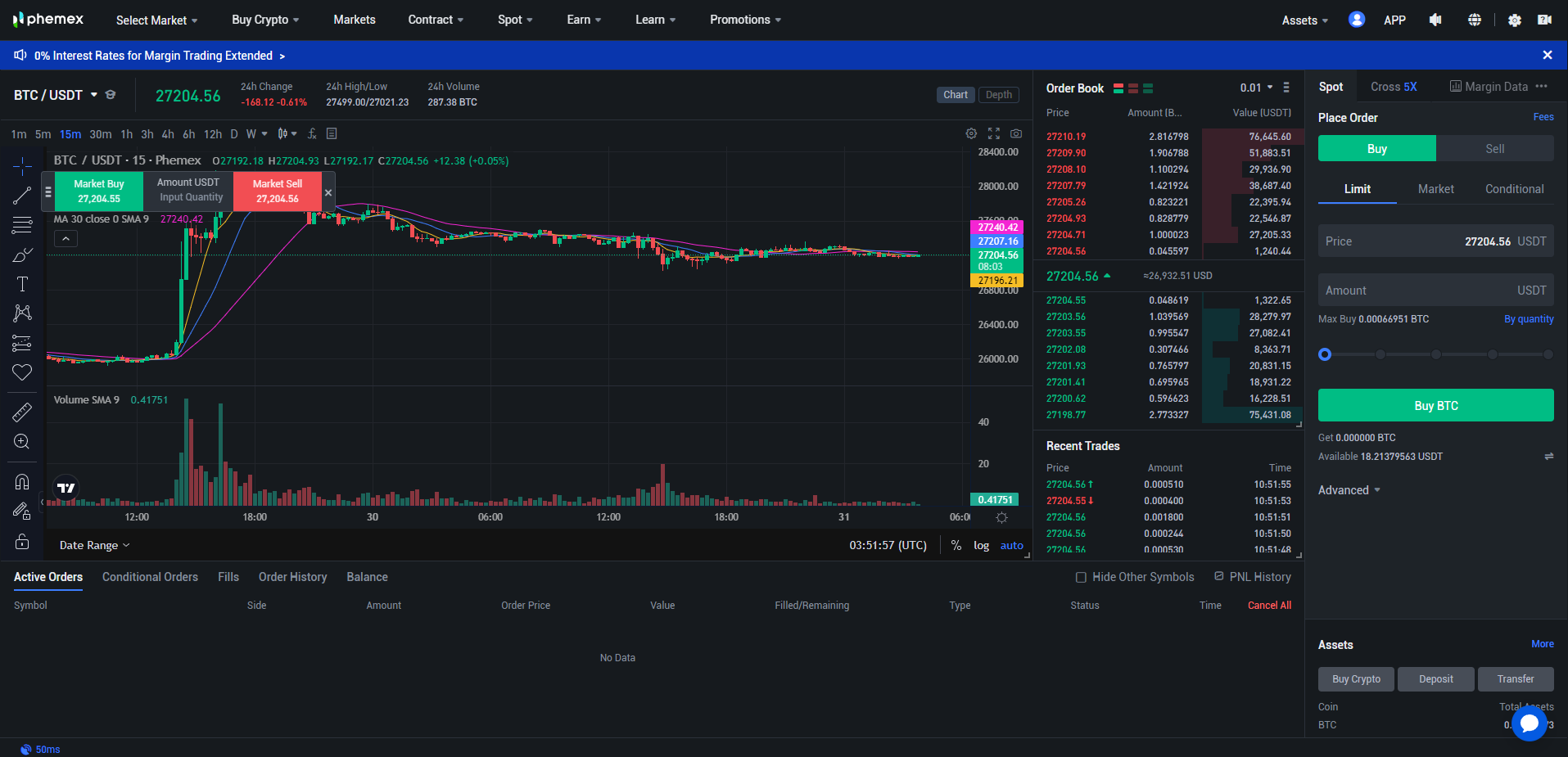 Phemex offers the following types of trade orders:
Market orders: These orders are executed instantly at the best available market price.

Limit orders: Traders can set a specific price, and the order will be executed instantly if the market reaches that price. Phemex supports different execution methods, including GoodTillCancelled (GTC), ImmediateOrCancel (IOC), and FillOrKill (FOK).

Conditional orders: Similar to limit orders, these orders allow traders to set a trigger price for execution.
With over 250 spot trading pairs available, Phemex provides a wide selection for most traders. However, if you are specifically interested in purchasing and trading low-cap and hard-to-find altcoins, the top three exchanges known for altcoin support are BingX, Bitget, Bybit, KuCoin, Gate.io, and Binance.
Derivatives Trading
Phemex has emerged as a favored platform for derivatives traders, providing comprehensive support for more than 150 perpetual contracts denominated in USD-M and Coin-M. Additionally, the platform has plans to introduce support for USDC Perpetual contracts in the near future. This wide range of derivatives offerings caters to the diverse trading needs of users on Phemex. Traders can access up to 100x leverage when trading these contracts, and similar to spot trading, the charting interface is powered by TradingView.
Traders on Phemex can choose from various order types, including:
Limit orders.

Market orders.

Conditional orders.
Additionally, the platform provides advanced settings for these orders, such as:
Reduce-only: This option ensures that the order only reduces the trader's position without increasing it.

Post-only: These orders are not executed immediately and are used to secure a Marker Rebate.

Bracket Order: Designed to limit potential losses and secure profits, bracket orders involve placing two opposite side orders to "bracket" the original order.

Good til Cancelled (GTC): These orders remain open until filled or manually canceled by the user. Traders can choose Immediate-or-Cancel (IOC), where a portion of the order is immediately filled at the target price, and the unfilled portion is canceled, or Fill-or-Kill (FOK), where the entire order is filled immediately at the target price or canceled.
Phemex offers these advanced order settings to provide traders with greater control and flexibility in their trading strategies.
Furthermore, the platform incorporates a helpful ping monitor located in the lower left-hand corner. This monitor offers real-time updates on the speed of your data transmission and reception. For easy reference, all the previously mentioned information can be readily found in the highlighted sections below, ensuring quick access whenever needed.
Phemex Sub-Accounts
Sub-accounts are a distinctive feature that is not widely supported by most cryptocurrency exchanges, yet it is gaining popularity among quantitative traders. Phemex offers the ability to create sub-accounts within an existing account, granting traders the flexibility to hold both short and long positions. These sub-accounts serve various purposes, such as hedging positions, utilizing trading bots, or testing different strategies in isolation.
The main account and all sub-accounts can be conveniently accessed and managed on a single screen. Each sub-account can be explored individually to review trading history, data, and statistics specific to that particular sub-account. This streamlined interface provides traders with comprehensive visibility and control over their trading activities across different sub-accounts.
Phemex allows users to create and manage up to 20 sub-accounts on their platform. This feature enables traders to organize and handle multiple accounts with distinct settings and strategies within a single Phemex user account.
Phemex Earn
Phemex offers multiple avenues for users to earn interest on their held cryptocurrencies. The first option is the Flexible Savings product, which provides the opportunity to earn interest without any lock-in periods. With savings rates ranging from 0.3% to 2%, supported assets such as BTC, ETH, SOL, and stablecoins can generate passive income. Phemex supports 11 assets in total, which is a notable offering compared to other platforms.
The second choice is the Fixed Savings Accounts, offering higher interest rates but requiring users to lock in their funds for specified terms. These fixed accounts boast competitive APYs ranging from 0.5% to 8.80% and lock-in periods of either 7 or 14 days. This flexibility positions Phemex as a favorable platform for earning passive income on held assets.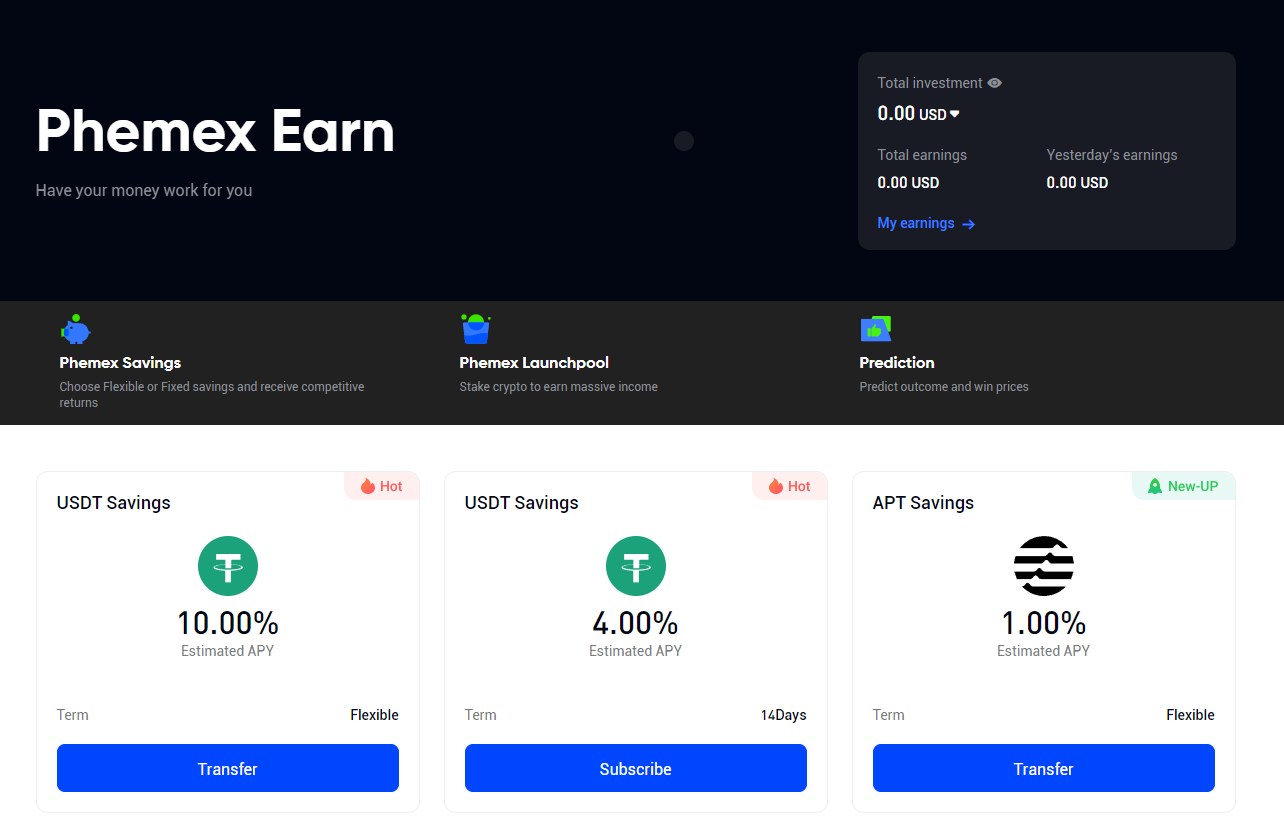 The Phemex Launchpool represents the third option for customers to generate passive income. This feature curates tokens and projects that offer higher APYs compared to regular staking. By participating in the Launchpool, users can discover new projects and earn increased returns on their tokens, making it an engaging opportunity to earn passive income while exploring new investment opportunities.
⏩ See more here: Earn Crypto | Crypto Interest Up to 10.00%
Top Trader Competition
The concept of gamifying trading has gained significant popularity among various crypto exchange platforms. Examples like Binance and KuCoin have introduced a "Vegas-style" section on their platforms where traders can engage in competitive activities and participate in trading contests to earn additional rewards and prizes.
Phemex has made an enticing foray into the realm of competitive trading. The platform hosts multiple teams and solo trading contests, encouraging traders to actively compete against one another for the opportunity to win cryptocurrencies and exclusive prizes.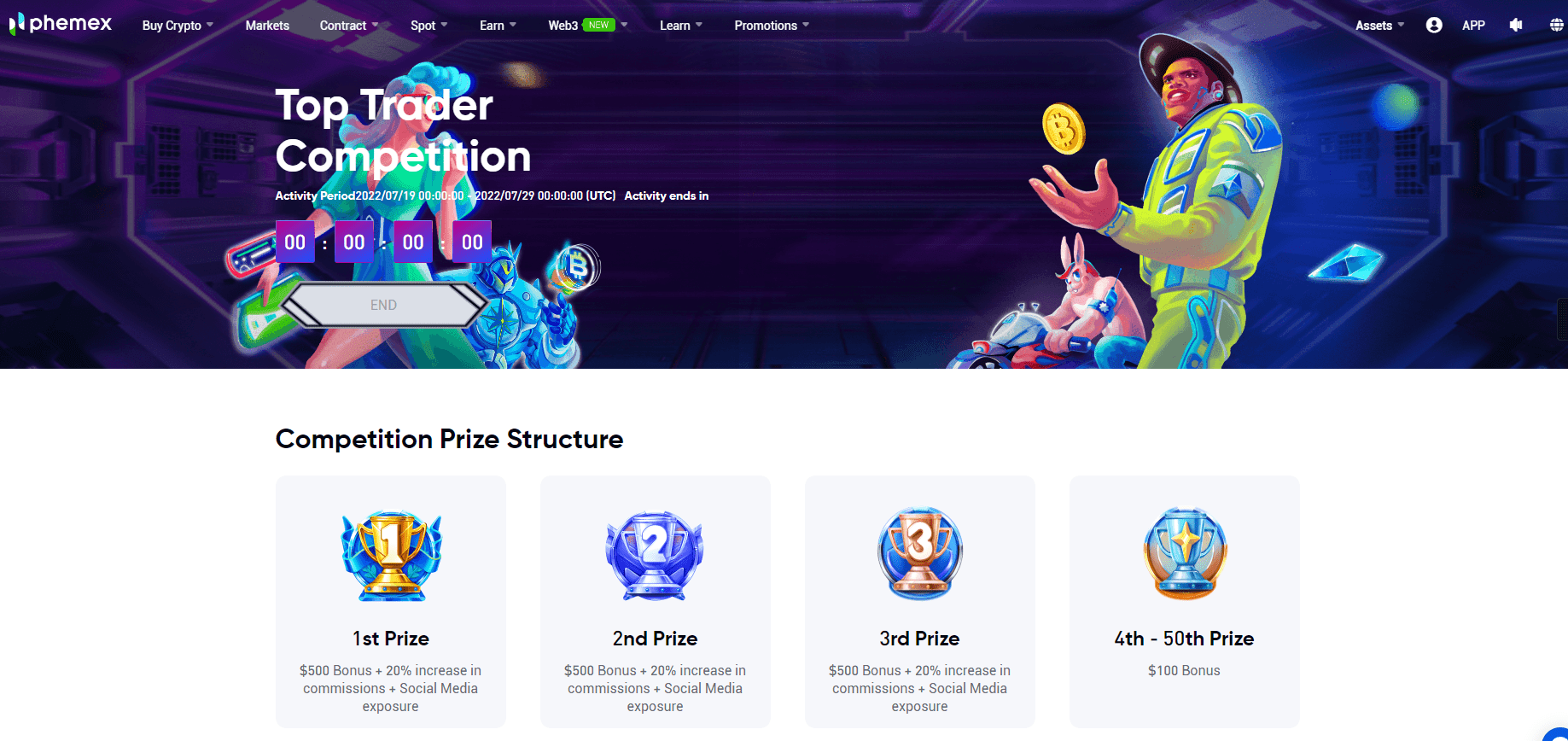 In a recent campaign, the top 3 traders with the highest Profit and Loss (PNL) were awarded a $500 bonus, and an extra 20% commission from traders who copied their trades, and Phemex provided enhanced social media exposure and trader profiles on the platform. This can potentially pave the way for a highly profitable trading career for traders who can consistently demonstrate profitability.
Traders ranking from 4th to 50th place received a $100 bonus. Trading contests have gained popularity across various trading platforms, providing an appealing incentive for traders who are dedicated to their craft and wish to earn additional rewards.
Phemex Copy Trading
Copy trading has gained significant traction on exchanges such as Gate.io and Bitget. It offers an excellent opportunity for traders to earn passive income while benefiting both experienced and novice traders in the following ways:
Learning from Experienced Traders: Novice traders can study and learn from the trades executed by more experienced traders, allowing them to gain valuable insights and improve their trading skills. It's akin to an apprentice learning from a seasoned craftsman.

Supplementing Income for Experienced Traders: With a multitude of assets and charts to monitor, experienced traders can leverage copy trading to share their workload and earn additional income by allowing others to replicate their trades.

Diversifying Trading Strategies: Traders seeking to diversify their portfolio can focus on their expertise while copying trades from specialists in other assets. For example, a trader proficient in Bitcoin trading can follow and copy trades from an expert in Ethereum, capitalizing on their knowledge of Ethereum's behavior and price movements.

Sharing Strategies for Profit: Experienced traders can share their successful trading strategies and earn profits from their followers. By allowing others to copy their trades, they can generate additional income while executing their own trades.

Easy Hands-off Income: Traders seeking effortless income can simply sit back and copy trades from skilled professionals, minimizing their active involvement in trading decisions.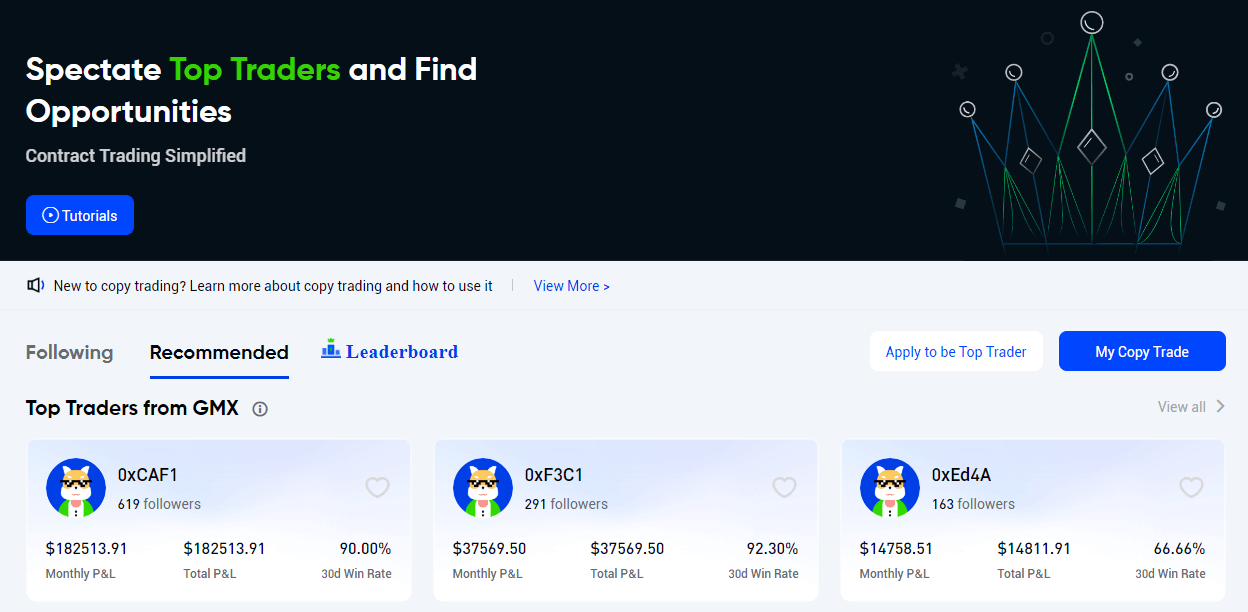 The copy trading section of the platform enables traders to explore and evaluate available traders to copy. Each trader profile showcases key metrics like total Profit and Loss (P&L), monthly Return on Investment (ROI), and monthly P&L, providing important information to assist in the selection process.
Phemex Launchpad
Launchpads have gained significant popularity across various exchanges such as Binance, MEXC, OKX, and Bitget, and their appeal is well-founded. As an enthusiast of both centralized and decentralized launchpads, I highly appreciate platforms like the Trader Joe DEX, Enjinstarter Launchpad, and TrustSwap.
The emergence of launchpads has revolutionized the opportunities available to the average trader or investor. Previously, access to early-stage projects was predominantly limited to venture capital firms, affluent individuals, and those with influential connections.
Launchpads offer investors a lucrative opportunity to acquire tokens at significantly lower prices compared to their peak values during bull runs. The potential for enormous gains, often reaching thousands of percentage points, is precisely what fervent holders envision. A prime illustration of this phenomenon can be observed through the remarkable profits achieved by several projects that engaged in the Binance Launchpad.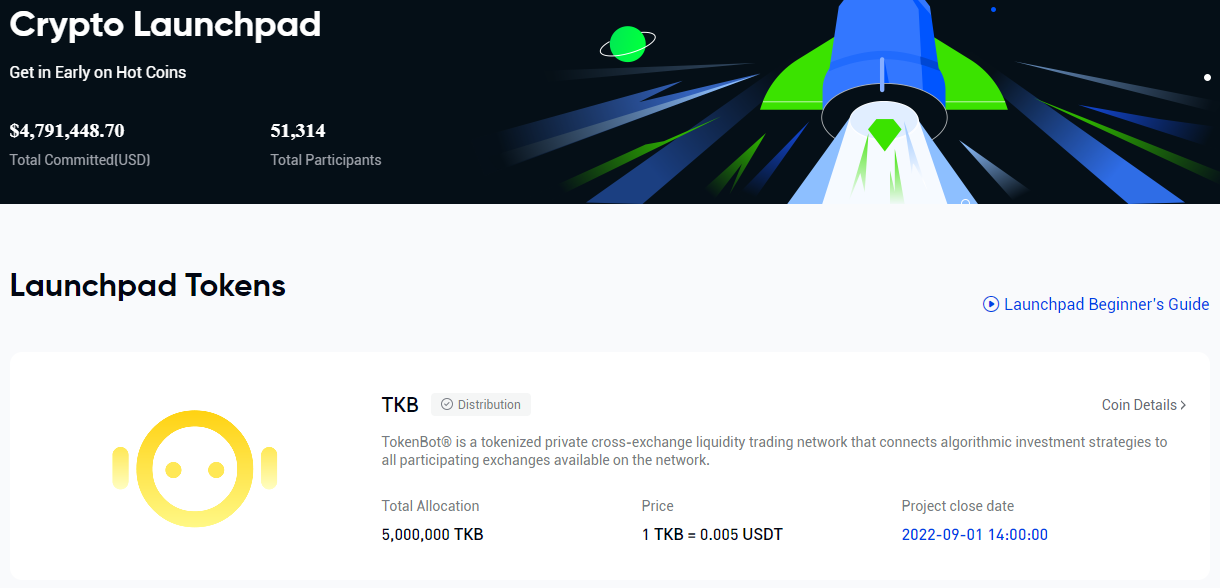 Phemex carefully curates a selection of promising projects, enabling its users to participate and purchase tokens during the early stages, even before they are officially listed on the platform. It curates a range of promising projects for its users to engage with, providing them the opportunity to acquire tokens during the early stages, prior to their official listing on the platform.
Phemex Mobile App
Phemex has dedicated substantial effort to developing an exceptional app catering to users who prefer to engage in mobile crypto trading.

Upon exploring the app, I found it to be remarkably user-friendly, boasting a superb UI/UX design. The overall trading experience on the app is delightful, mirroring the functionalities available on the web platform. The recent app overhaul and update have garnered positive feedback from users, aligning with my own positive impression. Notably, the Phemex App has received remarkable ratings from its users, with an impressive 4.7/5-star rating on Android and a 4.5/5-star rating on iOS. These ratings are based on over 15,000 reviews across both platforms.
While the app has garnered excellent ratings and I personally couldn't identify any faults, it is important to note that most traders, myself included, would not recommend relying solely on a mobile app as the primary trading tool. Depending solely on a mobile app for trading can potentially lead to unfavorable outcomes. I elaborate further on why this is not recommended in my Coinbase Review, which I encourage you to explore before assuming that a mobile app alone can make you a professional trader.
How to Register And Verify an Account on Phemex Exchange?
Phemex provides a convenient platform for trading without the need for KYC verification. Users who wish to deposit, withdraw, and trade cryptocurrencies can do so without undergoing the verification process. However, KYC is required for purchasing crypto or signing up for an OTC account.
How do I Sign Up an Account on Phemex?
The registration process on Phemex is straightforward and can be completed in four simple steps:
Sign up on the official Phemex website.

Provide a valid email address and create a password. It's important to use a genuine email address as it will require verification.

Click the verification link sent to your email to verify your account.

Set up your account, enable recommended security features, and start enjoying trading.

For KYC verification to purchase crypto, users need to go through a third-party vendor by selecting the "buy crypto" tab and following the provided process. The specific requirements and documents may vary depending on the vendor but generally involve uploading a government-issued ID, providing address information, and taking a selfie.
How Do I Verify My Account?
To verify your account on Phemex, follow these twelve steps:
To begin, open the Phemex App on your device and proceed to log in to your account.

Tap the Account Icon located at the top left of the screen.

Select the KYC verification option.

Tap the Verify option.

When you're ready to proceed, tap Start and follow the on-screen instructions.

Choose the issuing country of your ID from the drop-down menu and select the correct ID type.

The app will access your phone's camera. Ensure your document is centered and angled properly for legibility.

Capture a valid photo of the document and tap the Confirm button.

The next step involves face verification. Tap Start when you're prepared.

Position your face within the provided oval-shaped space. The app will automatically scan and upload your image.

While the application is processing, you will see a "Verifying" tag next to the ID & Face Verification option.

If the process is successful, the tag will change to "Verified."
Phemex Fees
Phemex offers fee-free deposits, allowing users to transfer funds into the exchange without incurring any charges. As for trading fees, Phemex maintains a straightforward fee structure with a maker fee of -0.025% and a taker fee of 0.075%. These rates are in line with industry standards and comparable to other exchanges.
In addition to trading fees, Phemex implements a funding rate that varies based on the leveraged position held by traders. It's important to note that higher leverage can have a substantial impact on equity, and this is reflected in the funding rate applied by Phemex.
Phemex Deposit Fee
Phemex guarantees that there are no fees for crypto deposits, enabling users to transfer cryptocurrencies into their accounts without any additional charges.
Nevertheless, it is essential to be aware that the claim of complete fee exemption for third-party payment gateways by Phemex is partially accurate. When using VISA or MasterCard for payments, there could be a fee of up to 2% imposed on the transaction. Conversely, alternative payment methods like SEPA or simple bank transfers generally do not attract any fees.
Phemex Trading Fee
At Phemex, the trading fees are structured as follows:
Spot Trading Fee:
Standard Users: 0.1% fee applies to both takers and makers.

Premium or Premium Trial Users: No trading fee is charged for spot trading.
Contract Trading Fee:
Takers: A fee of 0.075% is applicable for contract trading.

Makers: A fee of -0.025% is applied for makers, which means makers receive a rebate for providing liquidity.
These fee rates are specific to Phemex and may vary from other platforms.
Phemex Fiat Withdrawal Fee
Phemex does not currently offer any payment methods for withdrawing fiat currencies. The platform primarily focuses on cryptocurrency trading and does not support direct withdrawals in fiat currencies at this time. Users are advised to convert their cryptocurrencies to fiat through other platforms or exchanges that facilitate fiat withdrawals.
Phemex Crypto Withdrawal Fee
 The withdrawal fee for cryptocurrencies on Phemex is not fixed and can vary depending on market conditions. It is recommended that users review the specific fee associated with each asset before proceeding with the withdrawal of their digital assets. By checking the current fee, users can obtain accurate information and make well-informed decisions when it comes to withdrawing their cryptocurrencies.
⏩ See more here: Fees & Conditions | Crypto Trading Fees
Deposit and Withdrawal Payment Methods
 The withdrawal fee for cryptocurrencies on Phemex is not fixed and can vary depending on market conditions. It is recommended that users review the specific fee associated with each asset before proceeding with the withdrawal of their digital assets. By checking the current fee, users can obtain accurate information and make well-informed decisions when it comes to withdrawing their cryptocurrencies.
Phemex Affiliate Program
Unlike many other cryptocurrency firms, Phemex provides a completely free affiliate program that is accessible to all Phemex users.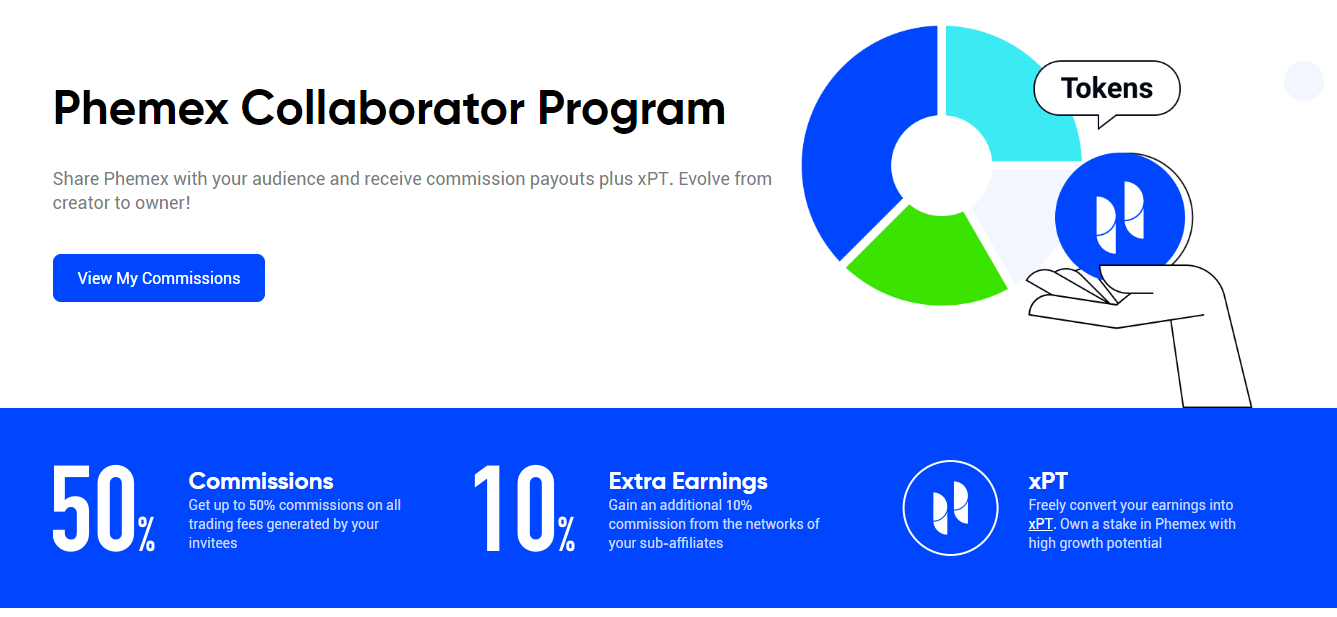 Through this program, users have the opportunity to earn approximately 50% in commission on all fees generated and paid by their referred individuals. Additionally, users can receive a commission of 10% for all referrals made by their sub-affiliates.
The exceptional payment structure of the Phemex affiliate program sets it apart, offering the industry's best and highest commission rate among crypto companies.
Customer Support by Phemex Exchange
Phemex offers support through its Help Center, which features a comprehensive collection of articles and guides that prove to be quite helpful. My only suggestion for improvement would be to include more step-by-step guides, images, and tutorials, particularly for newcomers seeking to learn how to trade.
The Phemex support team can be reached through various channels, including email, live chat, and the Telegram community. These avenues provide users with multiple options to seek assistance and find solutions to their queries or concerns. The Telegram community, in particular, can be a valuable resource as it allows users to connect with other traders and potentially receive helpful guidance or advice.
Telegram: https://t.me/Phemex_EN
Twitter: https://twitter.com/phemex_official
Facebook: https://www.facebook.com/Phemex.official
Instagram: https://www.instagram.com/phemexofficial/
Youtube: https://www.youtube.com/channel/UCtPeiP4cn2K19fH3y7o2tOg
Conclusion Review Phemex
Phemex is clearly driven and dedicated to establishing itself as a prominent player in the cryptocurrency exchange industry, aiming to reach the pinnacle alongside other major players in the field.
Since entering the US market and attaining regulatory compliance, Phemex has demonstrated impressive growth and continuous introduction of new features and functionalities. The platform's appeal to serious traders is evident, thanks to enticing offerings such as profitable copy trading, engaging contests, and a robust trading engine. Although Phemex is still a relatively young platform and has room for further development in terms of product and market offerings, its ongoing expansion and positive trajectory indicate the potential for Phemex to secure a solid position among the top ten exchanges.
Frequently Asked Questions
Can I use Phemex in the USA?
Yes, Phemex is registered with FinCEN and operates within the United States.
Is Phemex good for beginners?
Although the platform's advanced trading concepts and features cater more towards experienced traders, Phemex is an excellent resource for beginners seeking to learn how to trade. This is primarily due to their complimentary Phemex Academy, which provides an extensive range of blog posts and articles covering everything from Crypto 101 to advanced trading techniques. Additionally, Phemex offers demo accounts for users to practice trading without any financial risk.
Is Phemex better than Binance?
While Binance holds the top position as the world's leading exchange, Phemex cannot be considered superior to Binance. Most traders prefer Binance due to its extensive features and offerings, which are both comprehensive and robust. However, Phemex does have its advantages over Binance in terms of copy trading and KYC-free trading.
Is Phemex better than Coinbase?
Coinbase stands out as one of the premier exchanges for beginners, providing a user-friendly platform for purchasing and securely storing cryptocurrencies. However, Phemex excels in several aspects when compared to Coinbase. It is particularly advantageous for individuals interested in trading futures, engaging in copy trading, conducting KYC-free trades, and accessing earn features. For those seeking these specific functionalities, Phemex offers a superior solution compared to Coinbase.