Currently, the number of websites providing online English learning platforms for students is not uncommon. Here are the top 5 websites for Learning English in 2022.
1. Duolingo
For those of you who are learning about self-study foreign languages, Duolingo is probably not too strange. This is an easy-to-use, easy-to-use English learning website with familiar images for the most straightforward learning process. The website also offers the Duolingo app for those who want to make learning as convenient as possible.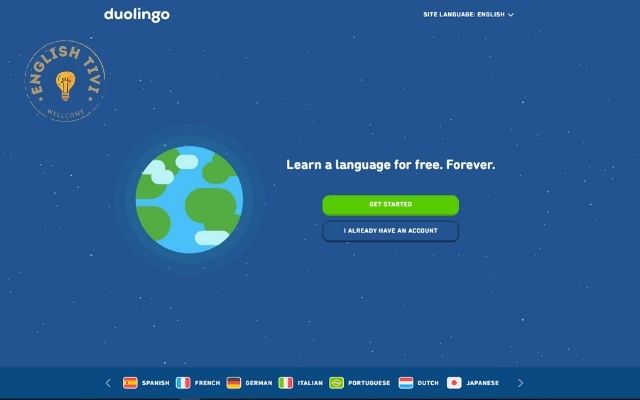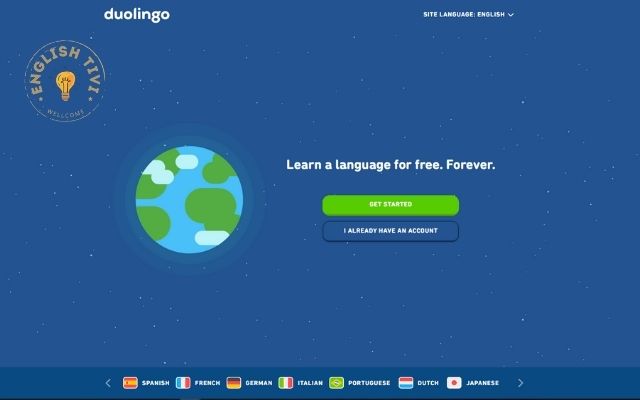 In addition to English, you can register to learn many other languages ​​at the same time. That is the great advantage of using Duolingo for your free online English learning process.
One great thing about using Duolingo, you will learn to combine all four skills: Listening, speaking, reading, and writing. With an intuitive interface, choose blue and white tones as the main, simple but still beautiful.
The process of registering an account at Duolingo takes place in less than 5 minutes. When you start setting up an account at this website, you will set a goal for your daily practice. The target levels include Easy, Medium, Hard, Very Hard (corresponding to learning time from 5 minutes – 20 minutes per day). Each need you will have to study corresponding to the set goal.
Website: Duolingo – The world's best way to learn a language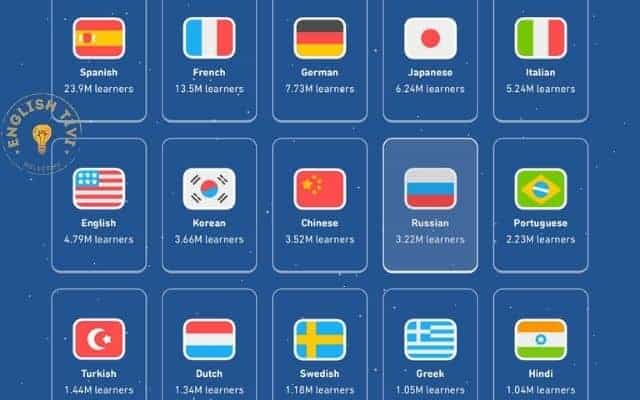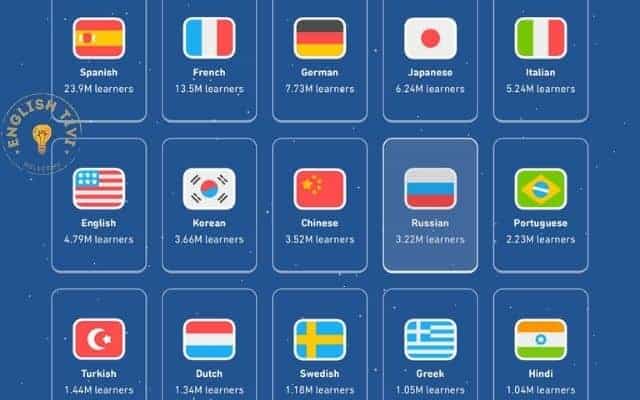 When using this website, you will be provided with the most basic information about English. Therefore, this is the right website for those who are just starting to learn or have lost their English roots and want to start from zero.
How to deliver content towards deep learning method. It means that after each day, you will see the sentences/lessons you did/practice in the previous days. This will help you remember words, sentence structure more firmly.
Every day, your learning progress will be recorded specifically, what lessons you have learned, how many experience points are there, etc.
If you want to review the previous studies, you can also do it on this website. If your family has elementary school children who want to learn English online by themselves, you can also use this website for your child to practice for free every day.
Website: Duolingo – The world's best way to learn a language
2. Elllo.org
Elllo.org, born in 2003, is probably not too strange for many self-study English learners. After more than 17 years of development, the system of lessons on Ello is increasingly diverse.
This diversity is due to the contributions of faculty members from all over the world. This website is considered the most suitable for those who want to improve their English listening skills.
Compared to Duolingo, this website seems a bit more complicated. When you visit the web, you will notice many exercises not arranged to learn in order. Therefore, You need to try harder when studying at Elllo.org.
But don't worry about that. Because, the lessons here are also divided by Level.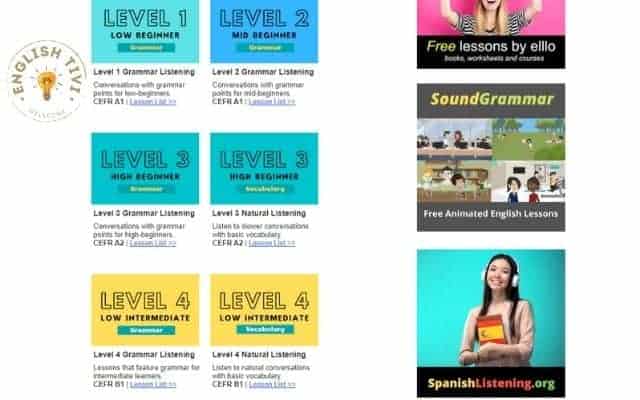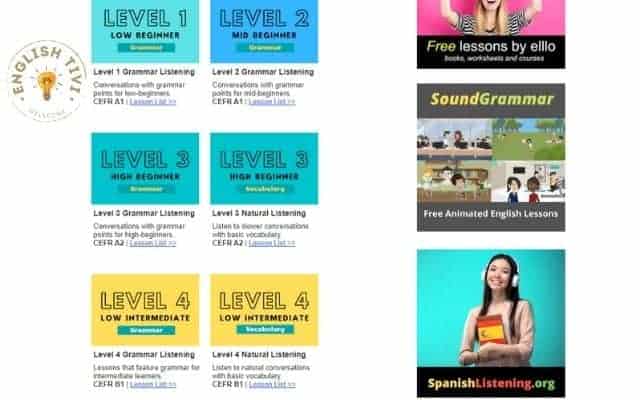 Website: ELLLO – English Listening Lesson Library Online
Although it is considered a website suitable for listening practice, if you want to improve your grammar, using Elllo is also a great choice.
The number of self-study exercises on the web is huge, divided into many levels. Suitable even for those who want to increase their ability from basic to intermediate.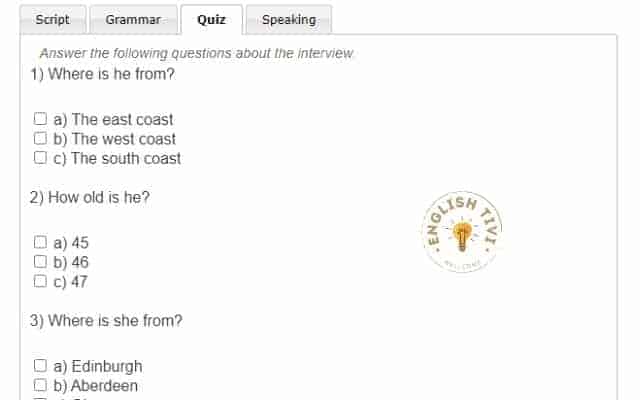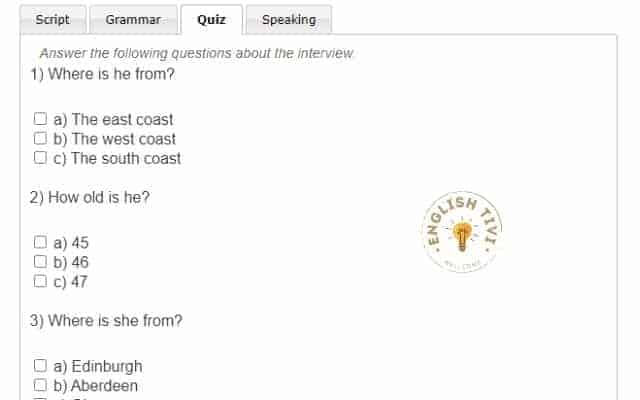 Each Audio lesson will include Audio practice listening, dialogue, vocabulary (with explanations and examples), multiple-choice questions, and vocabulary exercises.
With the above structure, learning English online through Ello helps you provide quite comprehensive knowledge: listening, Speaking (if you take the trouble to pronounce according to Audio), Reading, Writing.
With Video lessons, the lesson also includes A video, the content of the talk (Transcript). A quick question related to the mentioned content (Quiz). You can choose to hide the word's content or make it public and listen to it.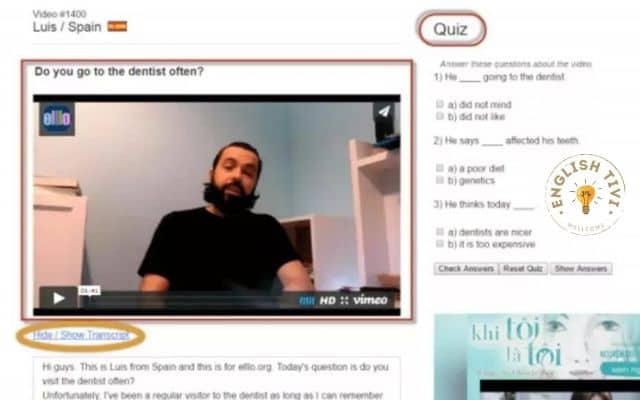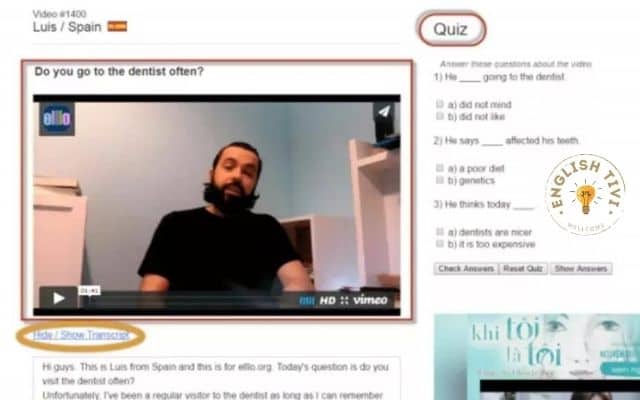 The Audio and Video on Ello are not too long, very suitable for you to practice listening and speaking in combination. After using this website, you will notice the improvement in your ability to listen – speak and grammar – vocabulary.
Website: ELLLO – English Listening Lesson Library Online
3. Learn English at Lang – 8
This website helps you practice writing exceptionally effectively, and importantly, learning English online here is entirely free.
The exciting thing about this site is that it is a multilingual learning community. This means, no matter what language you learn, you can join this site to improve your writing.
This site works as follows: You register an account, write articles, and receive suggestions from other friends (maybe native speakers) for your articles.
Therefore, you can help foreigners edit English sentences. At the same time, you will also get their help in cleansing your articles.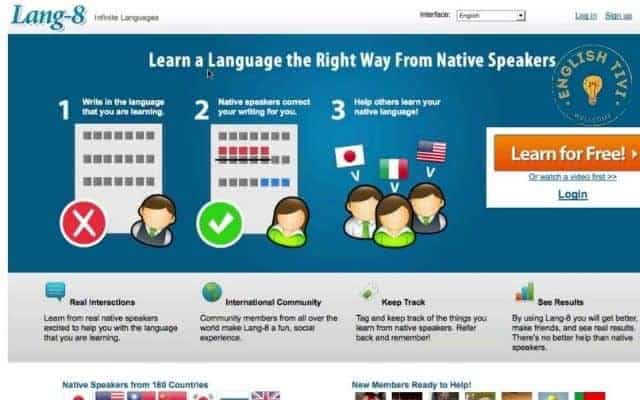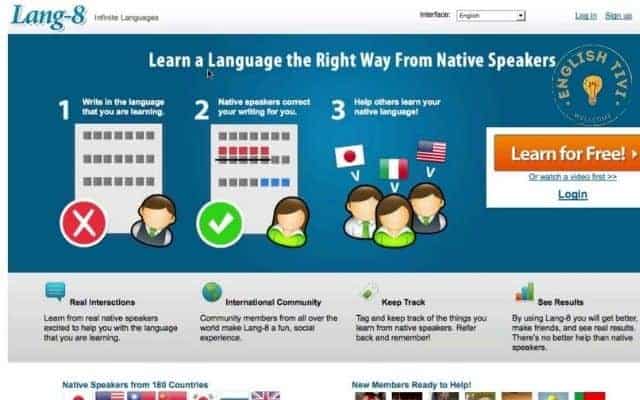 Website: Lang-8: For learning foreign languages
Registering an account at Lang-8 is also very simple and fast. You can use your Gmail, Twitter, or Facebook account to register. This process only takes about 5 minutes to complete. Next, set up a personal store, introduce some general information about yourself to impress international friends.
Thus, compared to other websites, you will have to choose the topic yourself and make up your article's vocabulary. Whether your learning process is effective or not depends on how often you write and correct your essays.
The number of community members is huge, coming from worldwide, so the rate of your post being commented on and commented by others is very high.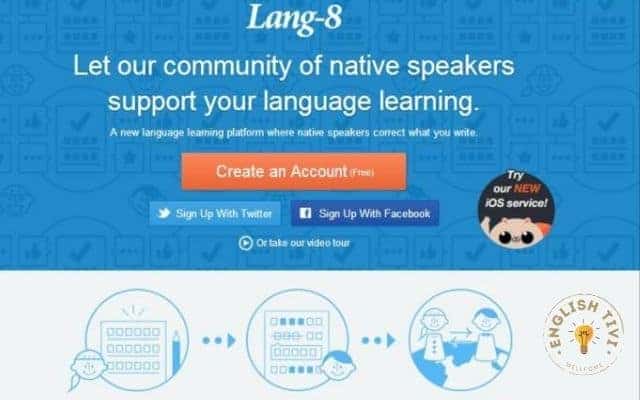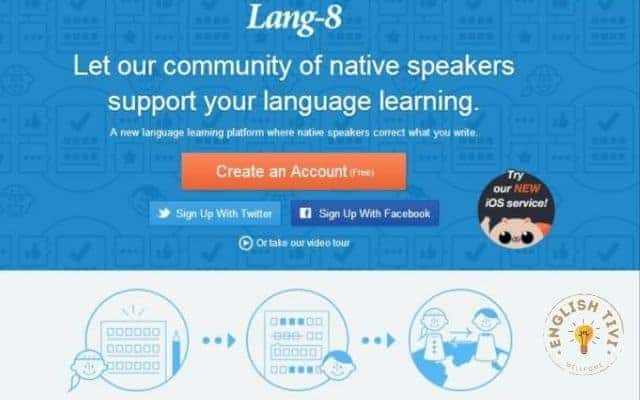 After being assessed, you can check what mistakes you made. From there, learn from it for the next time. Thus, in the learning process at Lang-8, you must be proactive from A – Z.
Therefore, this website is highly suitable for those who have high self-study ability, actively explore and especially, like to exchange make friends around the world.
With Lang-8, supporting the connection between foreign language learners in the community is a factor that helps this website work. What we give will have the opportunity to receive. This is the positive message that you learn when using Lang-8 to improve foreign language skills.
Website: Lang-8: For learning foreign languages
4. BBC Learning English
BBC Learning English is one of the online English learning channels established very early, since 1943.
This channel develops a variety of topics with highly high-quality lessons. Make sure learners follow the BBC. If they know how to use it properly, it will improve their English a lot.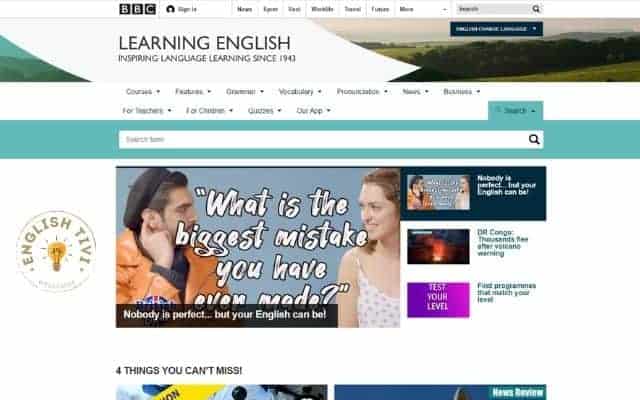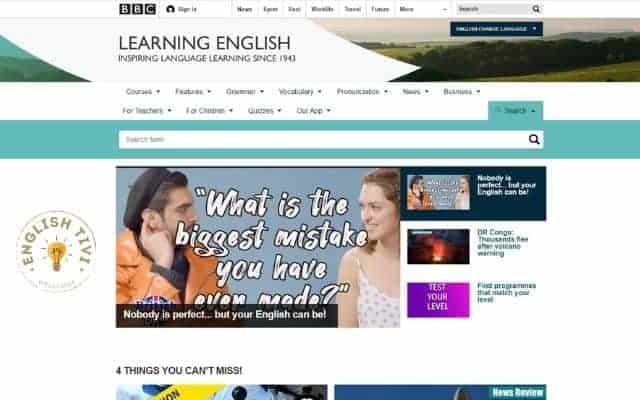 Website: BBC Learning English
Here, you will be fully developed skills from Listening, Speaking, Reading, and Writing. At the same time, BBC will provide you with information about the complete Grammar and vocabulary structure. Therefore, if you want to learn English comprehensively, BBC is the choice for you.
An important point to note for those who want to learn English online at this website, you need to have the most basic information about this foreign language before studying at the BBC.
The courses (even for the basic Level) are also designed entirely in English, so you must have an essential vocabulary (equivalent to high school English level) to join this website.
Using BBC is very simple; when accessing the website, you can notice that this website divides content into many tabs. For example, Course, Features, Grammar, Vocabulary, For Children, etc. Depending on your goals and desires, you can choose the appropriate tab with the corresponding favorite topic.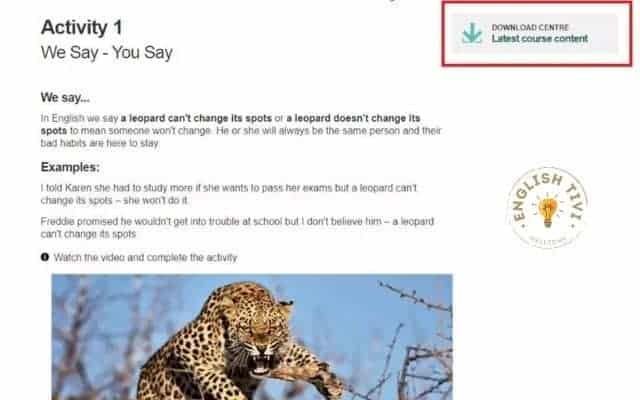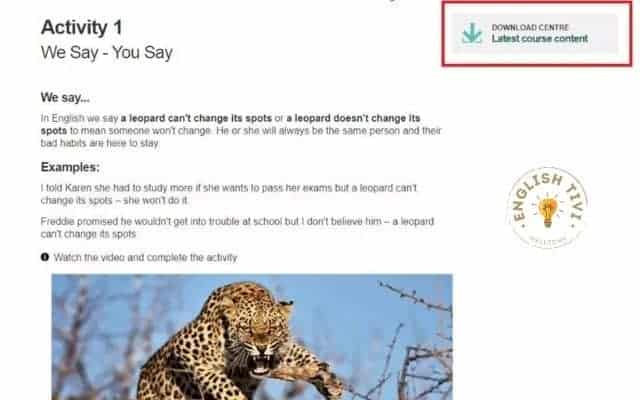 In particular, in the Features tab, you can learn English with a highly diverse source of information. The information is systematically arranged by categories such as 6 Minute English, News Report, Pronunciation, etc.
The content is lively and attractive, so learning English is no longer dull and dry. Accumulate practical social knowledge.
Each lesson at BBC includes Video, video content article, new vocabulary appearing in the study, questions about the content mentioned in the Video. A utility when starting to learn on this website, you can download Audio and lesson content to your computer to facilitate the review process later.
Website: BBC Learning English
5. TalkEnglish
As the name suggests, this website helps you practice speaking effectively. In addition, you also get an enhanced listening ability because Audio accompanies each lesson.
Along with that, website users are supplemented with vocabulary and slang words commonly used in English to help you learn this language effectively.
The interface of the TalkEnglish website is not too complicated to use. You can choose one of the tabs like Speaking English Lessons, English Listening Lessons, Extra English Lessons to start your English practice.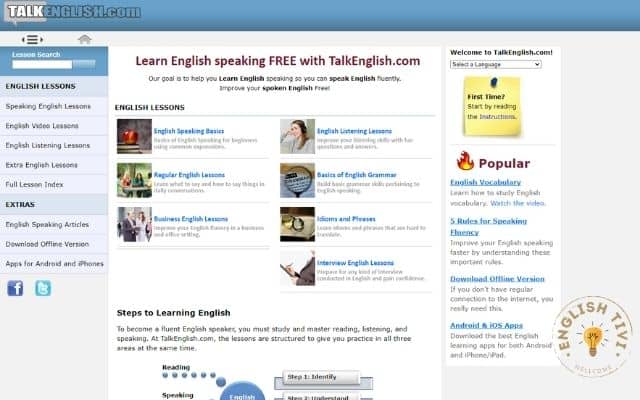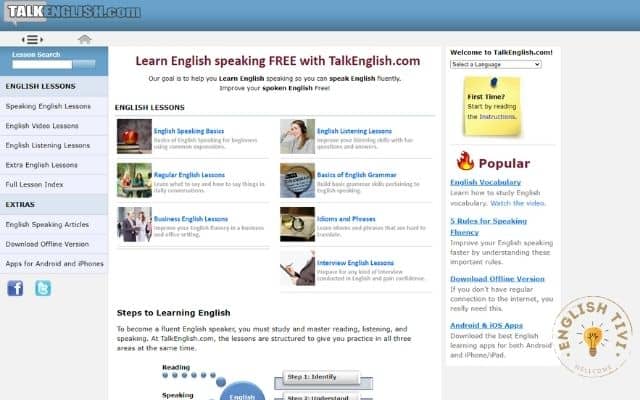 In each of the above tabs, there will be a small section with different topics. Once you have chosen the appropriate topic and content, you will probably be impressed by the variety of lessons on this website. Each class is a structure to review and practice, which will help you grasp the knowledge better.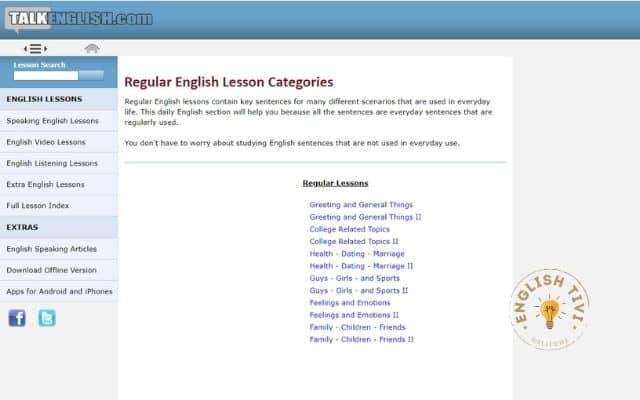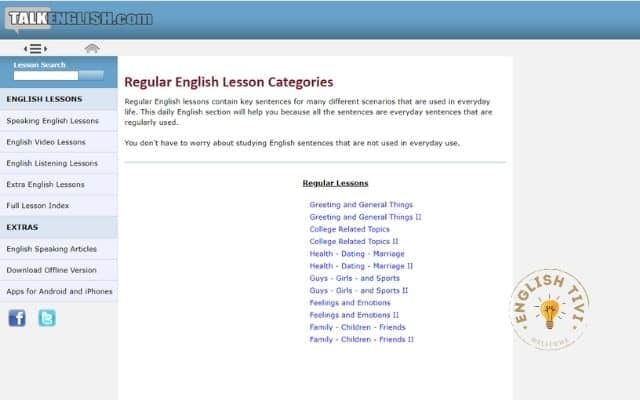 Website: TalkEnglish
With each lesson content, you will learn a sentence structure commonly used in English communication. Audio will explain the usage of design in actual cases.
At the same time, a lot of examples are given for your reference and application. To practice speaking better, you can click on each model, read according to standards with pronunciation and intonation of foreigners to learn better.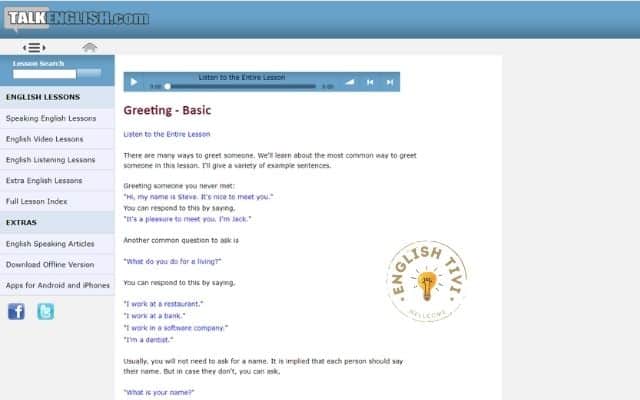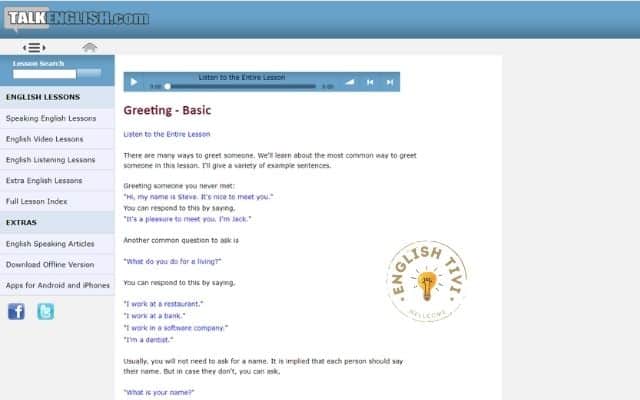 With the above learning method, after practicing with Talk English, you will develop both Listening and Speaking abilities.
Each time you learn pronunciation, you also practice listening so that your ears gradually get used to the sounds and rhythms in English. The guide voices are also varied, helping you to hear better in real-life communication.
Website: TalkEnglish
Above are the top 5 websites to help you learn English online. Through this article, we hope to be of some help to you. We wish you all good study!
In addition, you can refer such as English skills, words, grammar, … are constantly updated on Englishtivi.com.
Subscribe to the English tivi channel on Youtube to improve your English learning skills!