What is an Irregular Verb?
Irregular verbs, as the name implies, a verb that does not follow the regular rules when changing into the past or past participle form is called an irregular verb. You can see the full table of irregular verbs below and download it for free.
For example: See has a past form of Saw and a participle form of Seen.
More than 70% of the time we use verbs in English, we are using irregular verbs. Be, have, do, go, say, come, take, get, make, see,…
Do you feel familiar? These are all the most common verbs in the English language, and they are all irregular verbs. So is there a general rule of change for irregular verbs? The answer is no, if you want to remember, the only way is to memorize it. However, we do have some tips to make learning more effective.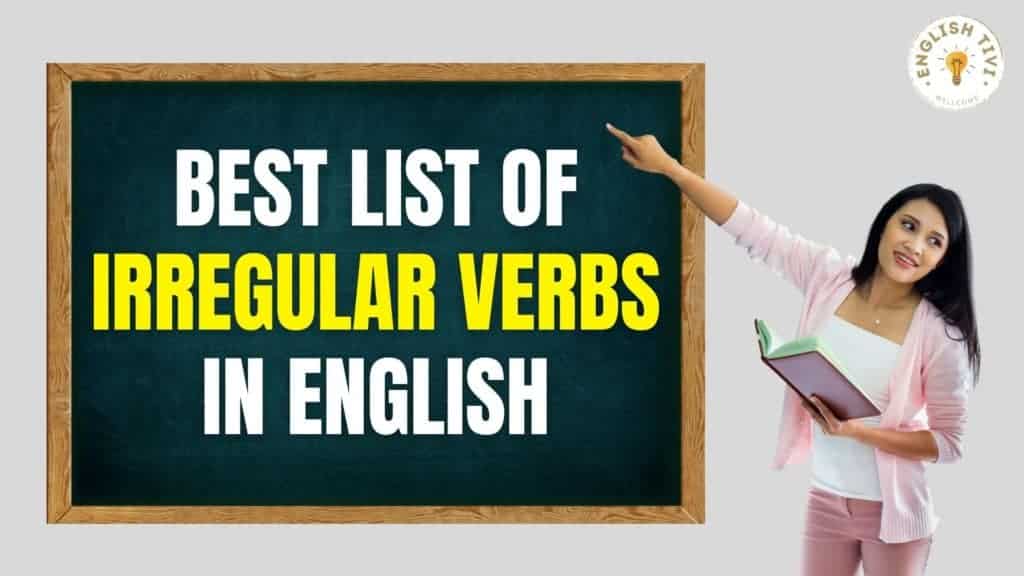 Some irregular verbs in English are often used. In the process of learning English, practicing for IELTS when learning about past participles or perfect tenses, you will have to remember a lot of irregular verbs (irregular verbs) to be able to conjugate the verb correctly. In this lesson, English tivi would like to give a table of common irregular verbs:
A list of all more than The 360 Best List Common Irregular Verbs table PDF in English is divided into groups to make it easier for you to learn and look up below.
You might also like: ALL the English Grammar Basics You Need
List of Irregular Verbs Table
The best Way to learn Irregular Verbs
Learn Irregular Verbs in Groups
Instead of memorizing the whole table of irregular verbs to make them easier to remember, you can also divide them into different groups.
Example:
+The group of verbs remains unchanged in all 3 forms: bet, burst, cast, cost, cut, fit, hit, hurt, let, put, quit, set, shut, split, spread.
+ Group of verbs with the same infinitive and past participle: become, come, run.
+ Groups of verbs with the same past and past participle forms: built, lend, send, spend.
Practice Regularly with Irregular Verbs Table
Of course, this is the most effective way to learn anything. Practicing communication helps you transfer the knowledge you learn from "slow memory" to "fast memory," forming the need for communication reflexes. This is the step where you put some of what you've learned into practice. Use some irregular verbs as much as possible, and you'll remember the word in the most natural way.
Learn Irregular Verbs with Flashcards
This is an effective way to learn vocabulary that many people apply. You can bring it to school anytime, anywhere.
Write the infinitive form for the word on one side, the past and past perfect forms on the other side, and study it yourself using flashcards. You should also write down the pronunciation of words. Each time you learn a word, make a sentence and read it out loud! Repeating over and over again is the best way to remember words.
With this way of learning, setting yourself a goal of learning 5-10 words every day, mastering the table of irregular verbs is not too far away.
Learn Irregular Verbs Through Songs
Learning English through songs is not a strange thing. And there are also a lot of songs to help memorize the table of the irregular verbs in English naturally and remember longer.
Compared to single words, our brains absorb the melody of a song much faster and easier. Songs will help associate memorable tunes with words and content to learn. You will be surprised at your own learning ability when learning with music!
English Irregular Verbs is the application I used to learn irregular verbs in English. The application provides the reading and usage of some irregular English verbs and tests to increase reflexes.
Conclusion
Hopefully, the article 360 Irregular verbs in English grammar has brought you useful knowledge about the 360 Best List of Irregular Verbs in English. You can refer to other important English grammar knowledge with English tivi right here!
Subscribe to the English tivi channel on Youtube to learn English everyday!