Dux-Soup review is a LinkedIn automation tool that helps users automate repetitive tasks such as sending connection requests, messages, and InMails. It also allows users to scrape data from LinkedIn profiles and groups.
Dux-Soup has a free version, but the paid versions offer more features and functionality. The pricing starts at $19/month.
Dux-Soup has been reviewed positively by users on G2 and Capterra. It has a rating of 4.3 out of 5 stars on G2 and 4.4 out of 5 stars on Capterra.
What is Dux-Soup?
Dux-Soup is a LinkedIn automation tool designed to facilitate your outreach to potential clients.
Using Dux-Soup, you have the capability to send customized connection requests and messages. Moreover, it boasts an auto-reply functionality that promptly responds to incoming messages.
All of these activities are executed directly through your LinkedIn account, accessed via your web browser.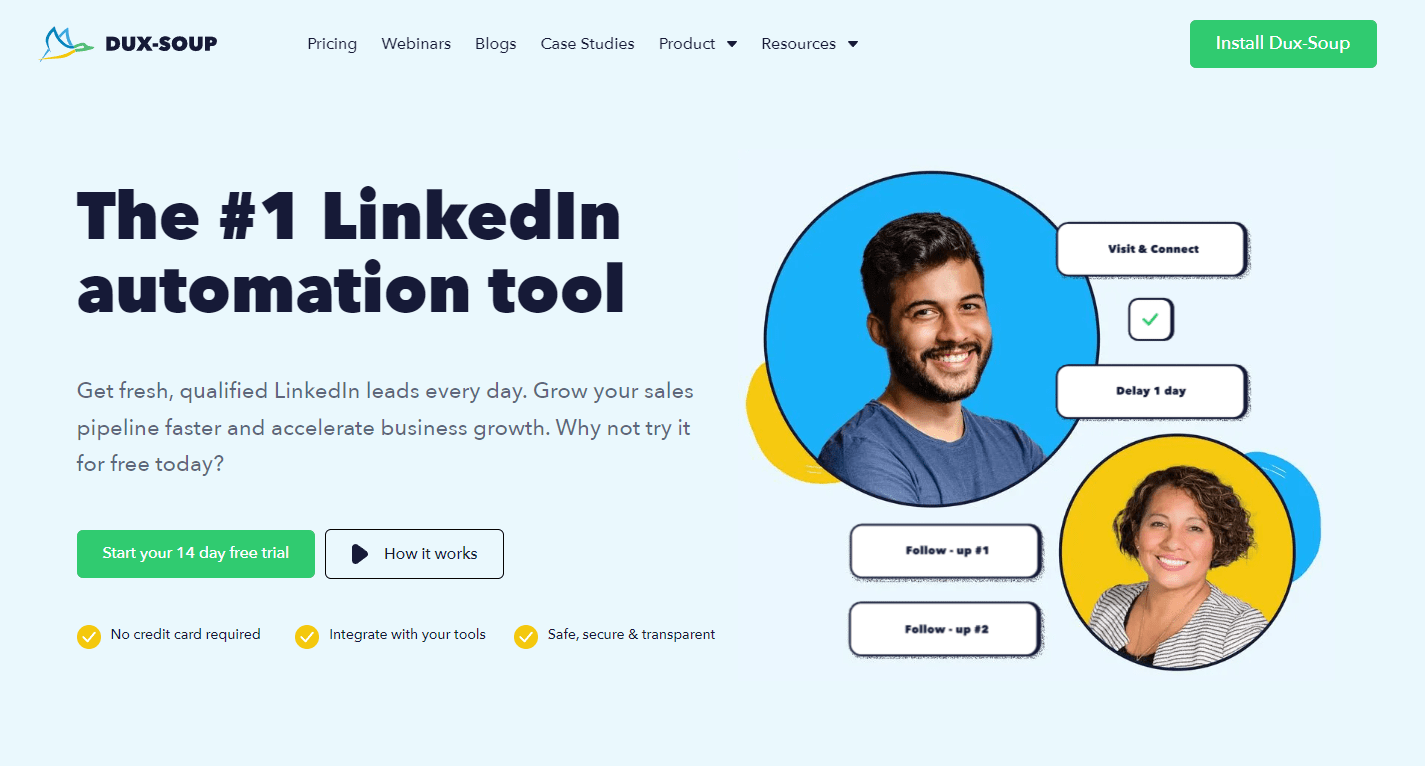 Dux-Soup's sales navigation feature empowers you to tailor your outreach messaging and effectively manage the quantity and frequency of your message distribution.
Furthermore, you can run multiple campaigns concurrently, each targeting distinct audiences.
Interested in delving into the pros and cons of Dux-Soup? Let's employ a visual representation to simplify the comprehension!
Dux-Soup Review: Pros and Cons
Pros
Assistance in building a network of potential customers
Ability to set up multiple campaigns
Cost-effective solution
Seamless integration with CRM
Offers a free trial
Affordable pricing options
Secure payment methods
Cons
Risk of getting your account banned
LinkedIn cautions against its usage
Operates as a Chrome extension
Unreliable customer support
Suspected presence of fake positive reviews
Potential to slow down LinkedIn
Complex and unintuitive user interface
Limited invite function
How It Works
The procedure is quite straightforward. The tool autonomously interacts with the LinkedIn prospects you select. It not only endorses their skills but also dispatches connection requests and numerous personalized messages.
According to their claim, this tool carries out all these actions on your behalf through your web browser, while you retain full access to all activities on your LinkedIn profile.
This is their depiction of the process; now, let's assess its validity.
Getting Started With Dux-Soup
To utilize this automation tool, you need to visit their website and click the "Get Started" button. Once clicked, the site will direct you to a page displaying various pricing plans. Additionally, there's a free version, which I'll provide more details about shortly.
Following this, you can click the "Get Started" button once more, and it will redirect you to the Chrome Web Store, where you can proceed to install the extension.
I must admit I harbor some reservations about Chrome extensions of this nature, given the potential risk they pose to sensitive data.
Dux-Soup Prices and Packages
Let's briefly examine the pricing plans that Dux-Soup provides to its customers.
They categorize these plans into three main groups:
Individual
Team
Agency
If you are an individual interested in trying out this tool, here is the cost breakdown for you: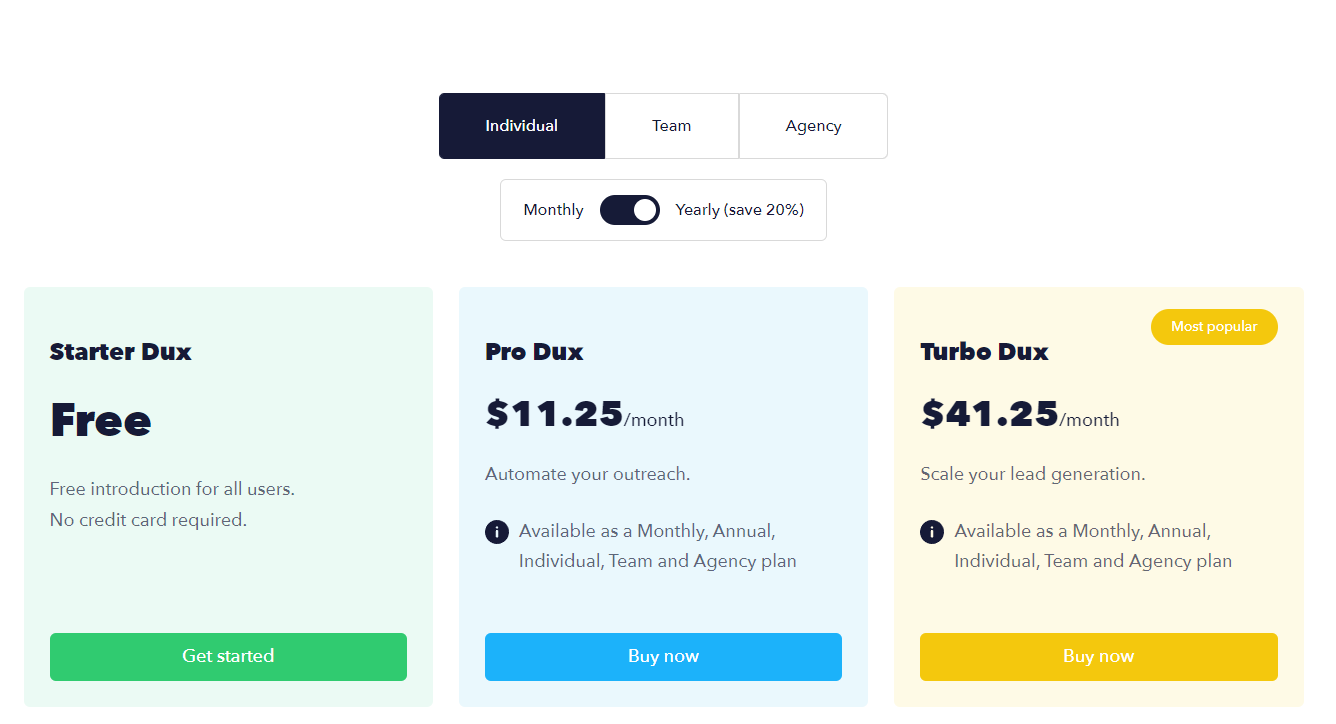 Starter (Free)
Basic prospecting capabilities.
Filters and organization with notes and tags.
Emphasis on finding prospects rather than direct engagement.
Pro Dux ($11.95 per month)
Enhanced prospecting and engagement options.
More automation features.
Access to downloads like notes, tags, skill sets, and job histories.
Performance dashboard.
Turbo Dux ($41.25 per month)
Automatic follow-ups.
Workflow integration.
Advanced dashboard features, including CRM connection and lead management.
Suitable for those looking to control leads in their sales funnel.
Team Level
Choose between Pro Edition and Turbo Edition packages, which share many features.
Pro Edition ($135 per year) offers comprehensive prospecting and organizational features but lacks advanced capabilities like follow-ups and workflow integration.
Turbo Edition ($495 per year) includes advanced features like automatic follow-ups, drip campaigns, CRM connectivity, and lead management.
Agency Level
Only one package is available: Dux-Soup Turbo at $412.50 per month.
Requires a minimum of ten client seats to access the software.
Offers the same features as the Team Level Turbo Edition but at a higher cost.
Recommended for larger businesses; consider it once your business grows, unless you're an individual user.
It's essential to assess your specific needs and budget before selecting a pricing tier to ensure you're investing in the features that best align with your business goals.
You might agree that these prices aren't the most budget-friendly, but they also don't fall into the top-tier price range.
The positive aspect is that they offer a free trial, which allows you to explore the tool, although the duration of the trial period is not specified.
Key features of Dux-Soup
Search for Prospects
The primary objectives of using Dux-Soup are to search for prospects and establish strong connections. This is achieved through a combination of automation and personalized message templates.
The Dux-Soup Starter Plan streamlines and automates the process of searching for prospects who meet specific criteria.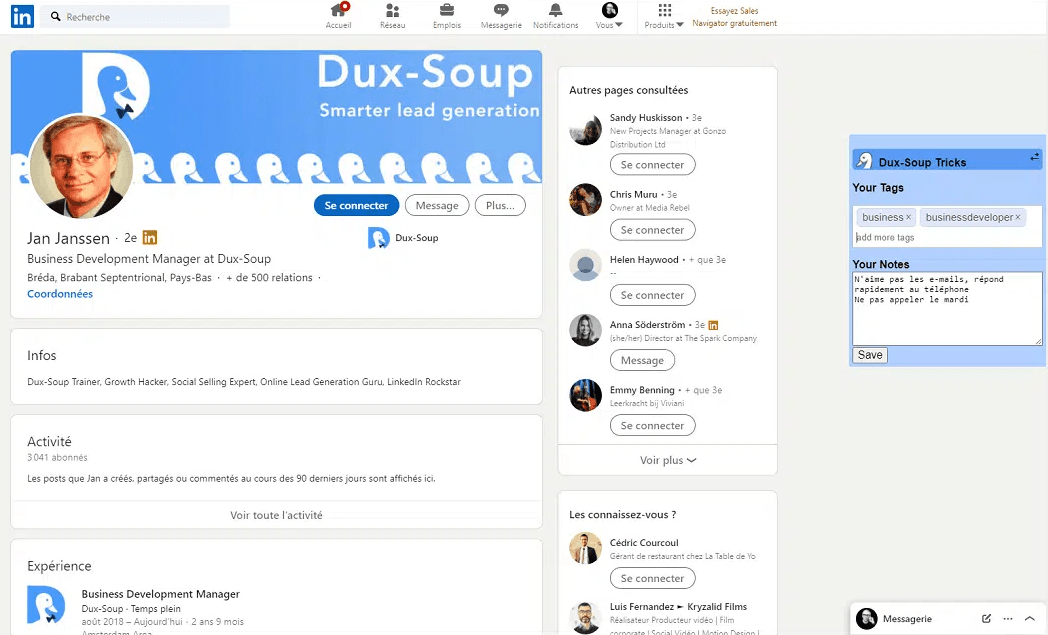 The search tool enables you to refine your results based on factors such as location, job position, or connection level. Once you've compiled your list of prospects, the prospecting phase begins:
Visiting profiles: Automatically initiates profile visits and logs data. When people see that someone has visited their profile, it may prompt them to visit your profile in return.
Visit and Login: This action not only visits the profile but also sends the user a login request. These login requests can be personalized with a message to enhance the likelihood of acceptance.
Profile Scanning: This feature allows you to scan profiles discreetly, without the user being notified of your visit. It's particularly useful for collecting data that can be exported to CRM software.
Contacting Prospects
Once you have your prospecting list and connection requests sent, let's dive into the follow-up and segmentation of your contacts.
In this phase, everything is managed through tagging. Tagging can be automated and provides a way to track where a prospect stands in terms of approach, follow-up, and interest. The choice of tags and how you use them is entirely customizable to your preferences.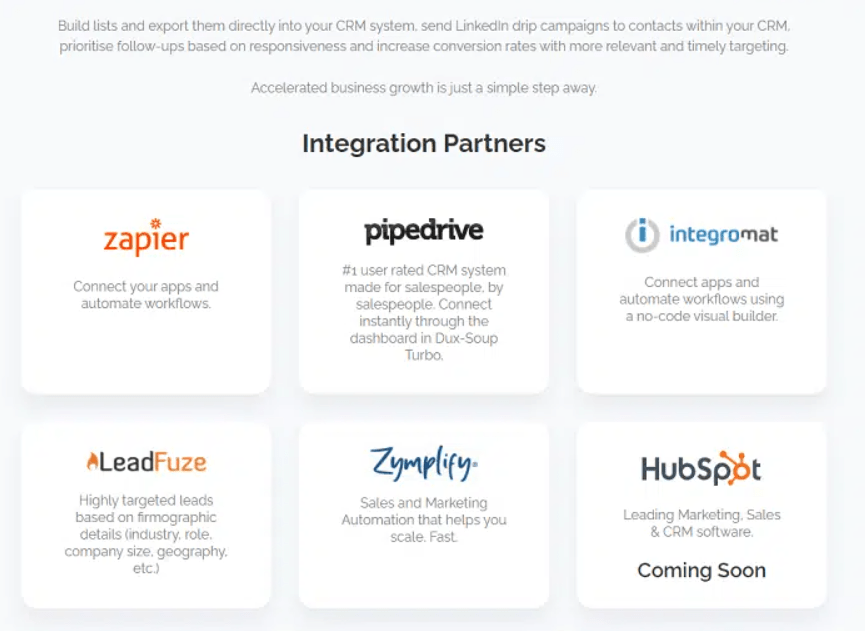 Dux-Soup seamlessly integrates with your CRM, enhancing your B2B data by retrieving key details from target profiles. This includes:
Comprehensive profile details (summary, skills, training, etc.).
Email addresses.
Sharing notes and tags with team members.
Conducting searches for tagged profiles.
Accessing profile notes and associated tag lists.
With Dux-Soup Professional, you can download visited profiles to a CSV file. With Dux-Soup Turbo, you can send actions and profile visits directly to platforms like Pipedrive, HubSpot, Salesforce, Zoho, or Zapier.
In Salesdorado's opinion, Dux-Soup offers impressive functionality, covering prospect identification, personalized messaging, and CRM data enrichment. It's a comprehensive tool that can significantly enhance your LinkedIn prospecting efforts.
Summary
Dux-Soup is suitable for both individuals and larger companies, with its paid versions offering enhanced features.
We recommend Dux-Soup for companies seeking to streamline their lead generation and LinkedIn connections. It is particularly effective for businesses looking to automate outreach efforts and maintain an organized system, reducing the need for manual efforts in lead conversion.