Story Summary: Bloody Legacy
"Bloody Legacy by Michael Bacon" is a novel that will make your day. In this novel, the author entertains the readers with a classy and fabulous story. All the characters are well-connected that provide a fantastic imaginary story. The introduction of new characters deepens the world.
This is a little story in the detective genre, which can make the reader's evening much more interesting. A smart and talented inspector from Scotland Yard investigates another crime case. Miss Paddington does not stay away.
She immediately comes to his aid. This curious woman is a big lover of detective novels and she is happy to take part in the investigation. But beyond that, Miss Paddington has another secret goal – she wants the detective to marry an attractive young lady named Elvira Elliot.
Whose intellect will prevail – an experienced inspector's or a housewife's, who is fascinated by cheap paperback detective novels? The story, despite its small volume, can show a lot of interesting plot twists.
Let's learn with English tivi on the topic: Learn English Through Story Level 6: Bloody Legacy by Michael Bacon right now!
You can download the PDF, MP3 file to learn English offline!
Learn English Through Story Level 6: Bloody Legacy (Source: Youtube.com)
Story Details: Bloody Legacy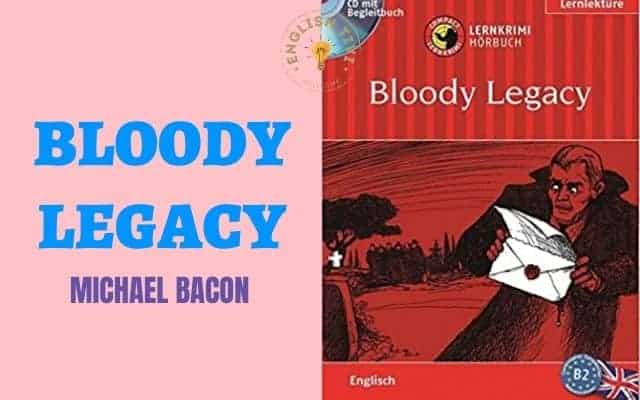 Chapter one: Rest in Peace
A small group had gathered around the grave. After the coffin had been lowered, the priest began to speak. "Forasmuch as it hath pleased Almighty God of his great mercy to take unto himself the soul of our dear sister here departed: we therefore commit her body to the ground; earth to earth, ashes to ashes, dust to dust; in sure and certain hope of the Resurrection to..."
Jonathan was surprised at the priest's intonation. Somehow he had expected these final words to be delivered more solemnly, at a much slower pace, but Reverend Jenkins rattled them off as if he were reading a shopping list out loud. Well, Jonathan thought, he must have held the funeral service hundreds of times. Perhaps, for him, the words no longer mean very much. He looked at the other mourners, all of them much older than he was. One lady was staring vacantly at a gravestone nearby, another was wiping away a few tears. It was a beautiful, sunny day, unusually warm for early April and the sparrows were darting around the cemetery, flying back and forth to their nests. Strange. It all seemed so ordinary, so humdrum, not in the least the sort of theatrical event he'd imagined it would be. But then Aunt Mary would probably have approved. He remembered that she'd always been a very down - to-earth sort of person. Down-to-earth? Wasn't that slightly irreverent under the circumstances? Jonathan focused once more on the vicar. "The grace of our Lord Jesus Christ, and the love of God, and the fellowship of the Holy Ghost, be with us all evermore. Amen."
There was a short silence and then they all walked back to the church porch.
"Well, Mr Keeble," said the priest, shaking Jonathan's hand vigorously. "I'm sure you've already arranged all the details with the local stonemason. Will you be staying on or do you have to return to London straightaway?"
"I'm afraid so, Vicar. I've got a lot of work on at the moment. Aunt Mary's death couldn't have come at a worse time."
"Yes, it's all very unfortunate. I was talking to her - oh, only a couple of weeks ago. She'd invited me round for tea to discuss plans for the next jumble sale. She seemed as right as rain then. I remember we inspected various white elephants that she was going to donate oh dear! Do excuse me. It sounds as if I'm trying to stake a claim."
Jonathan smiled. "Don't worry, Vicar. Nothing's going to disappear for the time being. To tell the truth, I have no idea what's in my great aunt's house. I spent a few holidays there when I was a child but the last time I saw her was back in the early eighties. We were never very close - I think there'd been some sort of disagreement with my grandmother after the war."
The vicar turned to the elderly woman who'd been hovering behind them.
"Ah, Mrs Smith. Yes, yes - a sad day for all of us. Have you had a chance to speak to Mr Keeble yet? Mr Keeble, may I introduce Mrs Smith. She was Mrs Bruton's house-help over the last few years." Jonathan shook her hand.
"Pleased to meet you, Mrs Smith. Yes, I remember now. Aunt Mary's solicitor did mention that you'd been working for her. I hope that we can get together soon and make a sort of inventory of everything in the house. Perhaps you could give me your phone number and we can arrange a date - that is, if it's no bother."
Mrs Smith took a handkerchief and dabbed her eyes. Jonathan estimated that she was about 60, so a good 15 years younger than his great aunt. She had a weathered, ruddy complexion, someone who probably spent a lot of time outside, in the garden perhaps.
"Of course, Mr Keeble. Of course. I'd be only too pleased to help. Mary Mrs Bruton - was a wonderful person. When my husband died, she insisted on me working for her - you know, on a part-time basis. She was a real friend. I still can't get over it. When I found her lying there in the hall I couldn't believe it. She was so fit, never needed a stick to get about, absolutely steady on her feet. I can't imagine..."
"Oh, I see", interrupted Jonathan gently, "so you were the first person to actually find Aunt Mary?"
"That's right. I always called by late Friday afternoon to see if there was any shopping she wanted done for the weekend. I rang the bell, of course, but when there was no answer I let myself in. She'd given me the keys when I started working for her. There she was, at the foot of the stairs. I thought she must have fainted, but when I tried to lift her up she was stone-cold and her eyes were wide open. Well, I rushed to the phone and called an ambulance straightaway - and the rest you know, of course."
The vicar helped Mrs Smith to the bench and they sat down. Jonathan patted her hand reassuringly.
"What an awful shock. It must have been terrible for you. But there's nothing more you could have done. According to the doctor, she must have fallen down the stairs and broken her neck. She died instantly. She would have felt no pain."
"I know, I know," sobbed Mrs Smith. "But to think that she'd been lying there all alone, all night!"
"But we don't know when exactly she fell, do we? It could have been Friday morning, couldn't it?"
Mrs Smith shook her head energetically.
"Oh no, impossible. She was wearing her jewelry, you see. And she only put the necklace and the earrings on after 6 p.m. Habit, she'd say. She always got dressed up for dinner when her husband was alive, and that's the way she'd carry on, she said. And the lights were on. She never switched the lights on during the day. Waste not, want not. That was her motto."
Jonathan nodded. He dimly recalled one holiday when he'd spent a couple of weeks with Aunt Mary and her husband. Uncle Charles was one of the directors of a large company that manufactured all kinds of products containing precious metals, silver, gold, platinum - that sort of thing. He travelled up to the City every day, mostly by train, but occasionally the company Rolls Royce would arrive, driven by a chauffeur called Roger, who always wore a peaked cap and a black suit. This had made a great impression on Jonathan - and on one occasion Roger had driven him down to the village and back. He could still remember the smell of the fine leather upholstery and the feel of the polished, walnut dashboard. But with Uncle Charles away at work, Jonathan had spent most of the time with Aunt Mary. She had loved gardening and they would spend long hours in the potting sheds, fiddling around with all kinds of exotic plants and vegetables. And the smell of tomatoes that wafted through the greenhouses! It had been a wonderful two weeks.
"I know," said Jonathan. "Aunt Mary was a very practical sort of woman - and you're quite right. During the day she'd be wearing what she called her 'working gear but she always changed for dinner, without fail."
By now the other mourners had taken their leave. The vicar suddenly stood up and pushed open the oak door to the church.
"If you've got time, Mr Keeble, I'd like to show you something."
Mrs Smith and Jonathan looked at him in surprise.
"Certainly," said Jonathan. "I was planning to leave around half past two, so as to avoid the rush hour. What is it you want to show me?"
"Something that your aunt donated to the church a few years ago. A most unusual and handsome gift. You know, Mrs Smith - the old bible."
"Yes, Vicar. You must see it, Mr Keeble, it's really beautiful - but now I'll say goodbye - I still have to do a bit of shopping. Here's my phone number. Give me a ring when you're ready to go through the house. No need to worry about burglars and so on. The alarm system's all set, and I'll be going in each day to see that everything's in order." She quickly noted the number on a scrap of paper, gave it to him and then hurried off towards the gate.
Jonathan followed the vicar into the church. They walked down the aisle and into the vestry. Reverend Jenkins pulled out a bunch of keys and opened a large, steel cabinet.
"Mrs Bruton had a fine collection of old books and manuscripts, you know, including this." He took out a large cardboard box and placed it carefully on the table. "We put it on display once a year, in front of the altar. It attracts quite a large number of visitors - in fact, attendance figures for the services rise dramatically, as does the collection." Reverend Jenkins blushed slightly.
"Vicar, I know the old joke. We used to laugh about it in the choir I was in. After the service Reverend Ramsey would put the whole collection onto a plate and pretend to throw it up into the air. Very solemnly he would intone: 'What stays up, my Lord, is Thine. What falls onto the floor belongs to the church.' The new boys were always very impressed, until they registered that he always turned round and winked his left eye, slowly and solemnly. Aunt Mary obviously had a close connection to the church."
Jonathan turned his attention to the bible, which was certainly impressive. Bound in calf leather, it was as large as a breakfast tray and, as the vicar turned the pages, he registered the vividly colored illustrations interspersed between the text.
"Amazing, quite extraordinary. But it's not English, is it?"
"No," said the vicar. "It's a German Bible from the 18th century, printed in a small town called Wolfenbuttel - you'll have to excuse my pronunciation. According to your aunt, it had been in the Bruton family for at least a century. She felt that it should remain here, in Challing- stead, rather than be auctioned off to some rich American or other." Suddenly they felt a draught and the curtains rustled slightly.
"Vicar! Are you there?" The voice echoed through the church.
"Oh dear, that sounds like Miss Prince. She does all the flower arrangements. I'm afraid we'll have to postpone this viewing until a later date." Reverend Jenkins replaced the bible in its box and stowed it away in the cabinet just as Miss Prince marched into the vestry.
"Ah, there you are," she announced in a tone of triumph. "Don't tell me you've forgotten about our appointment, Vicar!"
Jonathan realized instantly that Miss Prince was not the sort of person he wanted to become acquainted with. Time to beat a hasty retreat, he thought to himself.
"Well, Vicar. Thank you once again for the service. A particularly good sermon, if I may say so. I'll be in touch again as soon as possible."
"Oh, yes, right - and the jumble sale? You won't forget, will you?" Reverend Jenkins looked as if he'd been caught swigging a bottle of whisky. At the sight of Miss Prince he'd suddenly begun to blink at an alarming rate.
"No, we'll sort that out next time I'm here. Goodbye Vicar, goodbye Miss Prince." And, waving his hand in a cheery salute, he backed out of the vestry and was gone.
Chapter two: Something Is Missing
Jonathan! Yes, Jonathan! Elvira remembered that last time in Cambridge when he'd invited her to the May Ball at St. John's College. She'd had no idea what it would be like. Her brother, Giles, had simply said that a friend of his needed a female - "female!" - to accompany him. But it had turned out to be a very fun evening, the atmosphere, the lawns, and everything! Lots of dancing, even more champagne and so many young men (well, boys, really) and women (or were they just females?) - plus a few older ones (real men and women!) - celebrating the end of their studies and the glorious perspective of what the future held. Oh, how they'd talked and speculated about becoming Masters of the Universe with some investment bank or other - or, failing that, well, at least the Prime Minister! We're made for life - the world is at our feet! They'd danced and joked and made witty remarks and everything had been so romantic. No, one moment, not quite as romantic as Jonathan had hoped, but at least he'd behaved like a gentleman. And now? A telephone call after 12 years? Elvira was curious to discover what Jonathan really wanted.
She rang the bell. A crackle on the intercom, "Hello, who's there?" The voice was the one she remembered. Deep, even fruity, with those perfectly modulated vowels and intonation that signified private education and family wealth originating from some forebear who had made his fortune in India, Africa or wherever. Who cares? Elvira pushed open the door and marched up to the third floor, her crocodile leather boots resounding on the steps of the art-deco staircase. He hasn't changed, has he! Money oozing out of his... Elvira! Stop this now! But why had he rung up for an appointment? Questions - memories - and more questions. We'll soon find out! The front door was open.
"Elvira! My God, you look better than ever...!"
"Jonathan, how are you, darling?" The hypocrisy dripped off her tongue, as she offered her cheeks for the ritual peck. Christ, she thought, I did this almost every week only twelve or so years ago, just to get invited to a cocktail party or an evening out at the Garden House Hotel. But I've moved on - I've found my niche in life - I'm a successful investigator in the insurance business. Despite being a female!
Jonathan, as suave as ever, swept her into the flat, which was exquisitely decorated. Low lighting, a few interesting prints and lithographs. She liked the coloring. Pastel shades that reminded one of Tuscany or the South of France. Things fitted! Jonathan obviously had taste. Several doors were closed, but they could, possibly, lead into other rooms that harbored more vistas and treasures. Let's wait and see! Notting Hill, the seedy, run-down district which in the late fifties had witnessed such awful riots, had certainly come up in the world.
"Jon, what a marvelous flat!" Elvira winced at her hypocrisy. "It's absolutely stunning." The word "absolutely" was split into four syllables and breathed rather than spoken. Elvira had learned, at a fairly early age, what was expected of her.
Jonathan put a finger to his lips, ushered her into the living room and pointed to an armchair.
"Take a seat, Elvira. And stop pretending that Cambridge and all that rubbish still means anything. I think, since then, we've both grown up a little. By the way, how's Giles doing?"
"Oh, Giles!" sighed Elvira. "He's been all over the place. Middle East, Far East, Venezuela, West Africa - you name it, he's been there. But that's what happens if all you want to do in life is find oil. The last time I saw him must have been about four years ago. Some big joint venture with a Russian company. He sends an email every Christmas, though."
Jonathan gestured again towards the armchair.
"Can I get you a drink, by the way - it's awfully good of you to come at such short notice."
"I could murder a gin and tonic - with lots of ice, if you've got any."
Of course he'd have plenty of ice. Jonathan was the sort of person who had plenty of everything. Elvira had heard somewhere or other that Jonathan - Jon - had come into a fortune after his parents had died. Hadn't there been a car crash? Some awful accident, anyway.
Jonathan brought the drinks and sat down.
"And what about you, Elvira? What have you been up to since we last saw each other? Giles said you'd gone into insurance - that's how I managed to trace you. Quite a fluke, actually."
Elvira checked for a moment. Her landline was ex-directory and her mobile number was known only to a handful of friends. How had he found her? Save that for later!
"Well, after you and Giles had gone down, I decided to apply for a secretarial course in Cambridge. That May Ball you invited me to made quite an impression, you know - in more ways than one."
Jonathan nodded slowly, as he remembered his rather brash suggestion that they should go back to his room and change into something a little more comfortable.
"Yes, I'm sorry about that. It was a little over the top - after all, we'd only just met. Let's just say that I got carried away by the..."
"...atmosphere?" suggested Elvira. "Oh, no need to apologize, Jon. I just happened to have led a fairly sheltered existence - but let bygones be bygones. When I finished my course, I came to London, temped for a while and then struck it lucky. Redfearns was looking for a personal assistant for their insurance claims boss and I managed to fit the bill. Actually, I think it was my boots that impressed him at the interview."
Elvira pointed to the crocodile leather boots she was wearing, as she slowly revolved her right foot.
"Yes," drawled Jonathan. "It's quite obvious that boots and insurance go together like a horse and carriage."
Elvira looked a little perplexed.
"I'm not quite sure I get that, Jon. Anyway, when Mr Brown had stopped staring at my legs, I simply told him that these boots were made for working, not walking - and he gave me the job on the spot. And now, darling", Elvira drew out the word and flicked her long, red hair back for theatrical effect, "now, I'm working as an investigator for Redfearns Insurance Inc."
Jonathan stood up, raised his glass and said in a very pompous tone, "Well, Ms Elliot. Allow me to congratulate you on your meteoric success - and myself on having contacted exactly the right person for the job!"
They both clinked their glasses. He's quite ironic, thought Elvira. She's quite bright, thought Jonathan. He sat down again and suddenly became more serious.
"Now, let me tell you about my circumstances and why I contacted you."
After half an hour, Jonathan had told Elvira everything about his time since Cambridge. How he had drifted into interior design, how he had set up a company advising the "good and the great" on property acquisition, the right areas to buy property, and how his parents had died in an awful traffic accident on the M1. He had inherited "a good deal of money" and his business was thriving. Recently, his great aunt, Mary Bruton, had died. She'd been the younger sister of his grandmother, married to Charles Bruton, a successful businessman. They had lived in Challingstead, had had no children and so he, Jonathan, was the sole beneficiary of Mary Bruton's will. He had attended the funeral, had talked to the vicar, a Reverend Jenkins, and Mrs Smith, the house-help. The vicar had shown him a beautifully illustrated German bible that Mrs Bruton had donated to the church. So far, so good.
"Yes, but Jon," said Elvira, having accepted another gin and tonic. "What's all this got to do with me?"
Jonathan went into another room, returning with a bulky file. He retrieved one document and waved it in front of Elvira.
"This is an inventory of several books, first editions, old manuscripts and so on, that had been in the Bruton family for years."
Elvira felt a faint twitching of her nose. He wants me to value them. He wants to find out what the insurance premium will be. Not my department, I'm afraid!
"Jon, you really need some advice from our values. I can put you in touch with a real expert."
"No, Elvira! That's not the actual problem, although I do need to know how much they're worth. You see, these books and manuscripts are missing! I've been through everything with Mrs Smith. She even remembers where the books were kept! The cabinet was open, the keys were in the lock - but the books and so on weren't. There's something very odd about the whole thing."
Elvira felt her nose twitching again, a little more than before. Could Mrs Smith have "appropriated" the books after Mary Bruton died? Or the vicar - what was his name again - Jenkins?
"Jon, remind me. How did your aunt die?"
"She fell down the stairs. Mrs Smith found her the day after. The death certificate states that her neck was broken. Died instantly."
"And you inspected the house and belongings shortly afterwards?"
Jonathan nodded. "Yup", he said, "I had a big project on, so I couldn't travel down to Challingstead Hall until a few days later. Let's see, the funeral was 1Oth April and we did the inventory the following weekend, 19th April."
"But surely you don't suspect Mrs Smith or the vicar of stealing!" Jonathan dismissed the suggestion with a wave of the hand. "Impossible. I'm absolutely sure that Mrs Smith can be relied upon. If she'd wanted to steal anything from the house she could have taken it any time. She's had the keys for the last few years - and the vicar? Why would he show me the bible that Aunt Mary had donated to the church? A thief doesn't draw suspicion on himself deliberately, does he?" Elvira frowned. There was indeed something odd. She drew a deep breath, inspected her boots at length and then made a suggestion. "Jon, I know someone who can solve this problem - but he's not from my company. He's from another company located near Whitehall." Jonathan looked at her, almost in the same way that he had done twelve years or so before. Half-expectantly, half-hopefully.
"I knew you'd come up with something, Elvira. What's his name?" Elvira wriggled a little in the armchair, looked out the window and said, perhaps a little too dramatically, "Hudson. Inspector James Hudson of Scotland Yard."
Chapter three: Help at Hand
James Hudson was enjoying a late breakfast. On weekdays he was usually in the office by 8 o'clock - at least when he wasn't out in the field solving one of the more spectacular crimes that were making life difficult for his boss, Sir Reginald. He glanced at the headlines of the Saturday paper as he took another mouthful of scrambled egg. Mmmm - just the right consistency. What do the French - or is it the Italians - say? A1 dente? No, that's something to do with salad! But there could be no doubt that Miss Paddington was the ideal housekeeper. She was an excellent cook and thoroughly organized, so much so that Hudson rarely had to make any decisions concerning the running of his flat in Baker Street. He stared at a picture of the Prime Minister and his wife.
"Well, if they're on holiday again", he murmured, "there can't be much going on in London."
He poured out another cup of tea and began to plan his day. A trip to Southend, perhaps? That'll mean filling up the Bentley, of course. He felt a twinge of regret that he'd bought the car in the first place - but that had been years ago when petrol prices hadn't been a consideration. And he couldn't part with the old girl now, no matter how much fuel she guzzled. It might help if the Metropolitan Police were to bump up his pay. They say that wonders never cease. Or if Sir Reginald were to take early retirement. Hudson was fairly sure that he was next in line for promotion. On the other hand, Sir Reginald would probably go on for years. Hudson buttered another slice of toast. Marvelous, he thought. Peace and quiet.
The doorbell rang. Hudson took a gulp of tea and went to the hallway. This must be bad news, he thought, opening the door. But it wasn't.
"Hello, James. Hope I'm not disturbing you at such an early hour." The clock chimed ten as Hudson adjusted his tie.
"Why, Elvira! What a pleasant surprise! I haven't seen you since that last case we were involved in. Come in, I'm just finishing breakfast." Elvira gave Hudson one of her most winning smiles and marched into the kitchen.
"Miss Paddington not here?" she asked brightly.
"No, she made breakfast and then went off shopping. Portobello Road. She has to visit an old friend this weekend and wanted to find something that would buck up her spirits. I did suggest a much simpler solution - a bottle of sherry - but she wasn't amused. Now, what can I do for you? Or is this a purely social visit?"
Elvira arched her eyebrows and sat down.
"James, I've interrupted your breakfast. Do carry on. Do you want marmalade on that piece of toast? Or strawberry jam? I see Miss Paddington has given you a choice."
Elvira knew from experience that James Hudson was a confirmed bachelor Nevertheless, she always enjoyed making him feel slightly uncomfortable, just to see his reaction. In fact, whenever they met, she experienced certain "vibrations", probably due to the fact that he was an experienced police officer with a reputation and she was "only" an insurance investigator with a couple of cases behind her. She admired Hudson but she couldn't be quite sure what he thought about her. Was she, in his eyes, just an irritating interruption in daily life - or did he appreciate the fact that she had helped him solve a rather unusual case of blackmail? What she did know was that she must already have a bigger bank balance than James Hudson of the Yard. Involuntarily she compared her sports car with the ageing Bentley parked outside.
Hudson shuddered slightly.
"Aaah, yes!" he exclaimed. "That happens to be one of Miss Paddington's tricks. I've seen through it of course. I always take the marmalade. Comes from a top quality retailer, you know. I think the strawberry jam comes from the supermarket round the comer. Would you like a cup of tea?"
"Not if it's that ghastly Earl Grey brew, thank you very much. Coffee would do fine."
Hudson took the put-down in his stride.
"I'm afraid we don't have coffee here, Elvira. Miss Paddington disapproves."
"Then nothing, James. Listen to me! I think I'm onto something. A serious theft, perhaps even murder!"
Hudson raised his hands, both palms outward, shaking his head. He glanced at the toast - the butter - the marmalade - and the pot of tea. Weekends, he thought, are sacrosanct. Unless, that is, Sir Reginald rings up.
"Elvira", he said, rather pompously, "the dividing line between murder and imagination is very, very thin and has never been defined, at least not in my experience. But why don't you continue, whilst I finish my breakfast."
Elvira rattled off the facts as Hudson drank his tea.
"As I understand it, Elvira, you believe that A: Mary Bruton did not die of natural causes resulting from a fall down the stairs, B: that certain books etcetera have disappeared from her property, and C: that somebody deliberately killed her in order to come into possession of the same?"
"James, that's exactly it." Elvira crossed her legs, looking directly at Hudson.
Hudson shifted the plates on the table. It was an interesting hypothesis. But apparently the old lady had died as the result of an accident. He looked at Elvira, a little more sharply than before.
"And these missing books and manuscripts - how much are they worth?"
Elvira paused - she knew that Hudson was a little naive in financial matters.
"Not too much, James, but at least a million. I checked it out with our valuers - and the books were not insured. Nobody even knew they were in Challingstead Hall."
Hudson buried his face in his hands and then looked at the young insurance expert almost reproachfully.
"Elvira," he sighed. "You have just ruined what could have been a perfect weekend."
A couple of hours later, both he and Elvira were sitting in Jonathan's flat.
"You realize, Mr Keeble, that I can't do anything officially until I've squared everything with my boss - and I won't be able to see him until Monday morning, assuming he's back in the office by then." Hudson knew that Sir Reginald usually spent the weekend at his country cottage and, if the weather was good and no spectacular crime had been committed, he often took a day or two of "spontaneous" leave. As a Chief Superintendent at the Yard he would simply give his secretary a call.
Jonathan nodded. He was already impressed with the way Elvira had managed to persuade Hudson to even consider the case. After all, there was no real evidence to believe that Aunt Mary's death had not been the result of an accident. Except, of course, for the missing collection.
"Inspector Hudson, it's very good of you to even bother yourself with the matter. In the normal course of events, I might never have contacted the police. It's only because of Elvira..."
"I've worked with Miss Elliot on a couple of occasions," interrupted Hudson. "And I've discovered that she has a keen sense for when a crime has been committed. She has the makings of a very good policeman - sorry, policewoman - or perhaps I should say policeperson, in these days of political correctness."
Elvira blushed and lowered her head. Not on the pay the London Met offers, she thought!
"Well," she said. "Now that the introductions are over and all the facts are on the table, what are we going to do?"
"Make enquiries?" suggested Jonathan, grinning ironically. "Exactly!" said Hudson. "That's exactly what we're going to do. And I suggest the following. First of all, you give me everything you have concerning the contents of the Hall - oh, and the death certificate, the will and so on. I can go through it all this evening and then tomorrow we'll drive down to Challingstead. That'll mean contacting Mrs Smith, of course."
Hudson looked at Jonathan.
"No problem," he said. "She'll give us all the help she can. She was devoted to my great-aunt."
"Good," grunted Hudson. "Whilst you two", he nodded to Elvira, to indicate that she was also included in the Sunday outing, "keep Mrs Smith busy, I'll take a closer look at the cabinet and its surroundings. I assume that the local police weren't too interested after the doctor had certified accidental death."
"I don't think they were even involved," murmured Jonathan.
"So much the better," said Hudson. "Nobody, neither Mrs Smith nor the vicar nor the local police, should have the faintest idea that a crime has taken place. You can pass me off as a junior colleague of Miss Elliot - you know, an insurance value."
Elvira blushed even more. Inspector Hudson as one of her junior colleagues! If Miss Paddington had heard this conversation there would have been an outburst of protest. James Hudson a subordinate of this young, inexperienced "poppet"? Impossible!
"And that means, for the time being, you address me simply as Mr Hudson. OK?"
Jonathan stood up.
"Fine by me, Inspector - er - Mr Hudson. I'll get in touch with Mrs Smith straight away. What time should we say we're arriving? On a Sunday it'll only take about an hour to get to Challingstead, and I'm sure Mrs Smith will attend the church service in the morning."
"Well, if it's all right with Elvira, I suggest that we leave around midday. I'll need some time to go through the papers. I'm sure there's a pub in the village where we can get some lunch. Ask Mrs Smith if she can meet us at the Hall around two."
Jonathan quickly put the relevant papers together and the three of them went downstairs to the front door.
"Where shall we meet? Here? I'll drive, of course."
"No," said Hudson. "Elvira will come to my flat and then we'll pick you up."
"Right, then that's all taken care of," said Jonathan. "I'll reimburse any costs, of course."
Hudson waved his hand as he slipped into Elvira's car.
"No need to worry about that, Mr Keeble. The old girl needs a bit of exercise. The drive will do her good."
Jonathan closed the front door and went back to his flat. Old girl? What on earth did Hudson mean?
Chapter four: A Day in the Country
The weather on Sunday was perfect for a drive down to the country. An azure-blue sky, a light breeze - and the thermometer had already hit 22 degrees when Hudson saw Elvira pull up outside the flat.
He opened the window and bellowed, "Drive into the courtyard! It's all no parking here!"
Obediently she reversed into the car park behind the house and by the time she'd collected her lip-gloss, handbag, sunglasses plus peppermints, hairbrush and mobile, Hudson was standing impatiently next to the Bentley, ostentatiously looking at his watch.
"I make it 11.46 precisely," he said. "I thought we said 11.30."
"Sorry, James. Rather more traffic than I'd bargained for."
Hudson accepted the excuse with a slight smile. Women, he thought! Particularly young, attractive women who spend half an hour fiddling around with their hair when a potentially serious crime has to be solved. Miss Paddington would have blown her top.
It took them about 15 minutes to reach Jonathan's flat. He was already standing on the pavement and flagged them down. "Morning, Elvira. Morning Mr Hudson," he said, stressing the "Mister", as he slipped into the back seat.
"I contacted Mrs Smith and she'll be waiting for us in front of the house. Hope the documents and so on didn't keep you working for too long."
Hudson pulled out onto the main road.
"We'll talk about that later. I'm afraid I have to concentrate on the traffic at the moment."
There was an awkward 30 minutes or so as Hudson, patiently and politely, cursed various traffic lights, elderly pedestrians and other drivers heading towards the country. Finally they were on the motorway. The Bentley, in top gear, was now purring at 70 mph and, turning to Jonathan in the back, Hudson said, "Yes, Mr Keeble. Now where were we?"
"The documents. They didn't keep you up too long, did they?"
"Certainly not," replied Hudson. "Everything was in tip-top order. Of course, I'm not an expert in the field of antiques and so on, but I did have the feeling that those missing books might well be worth more than my monthly pay-cheque." He glanced at Elvira, who was fiddling around in her handbag. "James! I told you - about a million pounds!"
"Ah," smiled Hudson. "You see, Mr Keeble. That's what we're paid for at the Yard. To trace millions and be rewarded with pennies. It's a hard life, you know."
Jonathan felt slightly embarrassed. A change of subject was necessary. "You know, Hudson, yesterday you had me worried when you mentioned the 'old girl'. I now see what you meant. This really is a most splendid car. How did you come by it?"
"That", said Hudson, "is a long story, to be related after we've found out what happened that night in the Hall."
Soon they arrived in Challingstead. The village was the stereotype that every tourist expects of England. A large, undulating green with a pond. Two swans gliding gracefully towards the shade of a huge willow tree. Half-timbered cottages with mellowed brickwork and rose bushes, not yet in bloom, around the front doors.
"My God!" exclaimed Hudson. "I thought all of this had vanished after the war! Where's the urban sprawl they're always talking about?"
"Hasn't got this far - yet!" said Elvira, emphatically. "But the government's working on it. I'd give Challingstead about 15 years. By then you'll be able to access the M4 on a dual carriageway with no bends, no hedges. Within half an hour you could be in the City." It was evident that Elvira felt strongly about urban sprawl.
Hudson spotted an old man sitting on a bench. This is unbelievable, he thought. Tweed suit, checked shirt, woollen tie, smoking a pipe and two golden retrievers lying peacefully on the grass! Fleetingly he felt he was in a time-warp. He wound down the window.
"I say, excuse me, but can you tell us where the pub is? Just come down from London."
Hudson was quite good at affecting accents and idioms. At the Yard he was sometimes referred to as "the chameleon", which he took as a compliment rather than a criticism.
True to form, the old gentleman looked rather startled, obviously offended by this sudden interruption. Pointing with his pipe down the road, he said gruffly, "Straight ahead, first right."
Hudson thanked him profusely and chuckled as he imagined the comment that would follow. Bloody yuppies, why don't they leave us in peace!
Straight ahead and first right took them into the courtyard of "The Red Lion". Hudson's old Bentley was not totally out of place. Two classic Jaguars lay in wait, but most of the parked cars were of German manufacture: limousines and the 4-wheel variety. What do they call them in London, thought Hudson? Ah yes, Chelsea tractors. Good name! He grinned as he remembered a newspaper report about how you could now buy artificial mud to spray over the bodywork - to show that you really needed such an off-road monster in London. The world is fickle, yes, it really is. But then why did he want his Bentley, his "old girl"? Too complicated, thought Hudson. Let's solve the case first. He felt a burst of exhilaration. It was a beautiful, English spring day, the village was exactly as it should be - something out of Agatha Christie or the like - and, to boot, he sensed very keenly, in fact he knew, that something serious, and criminal, had taken place in these idyllic surroundings.
Jonathan pushed open the door to the saloon bar. Elvira and Hudson followed him through.
"What'll you have, Elvira? And you, Mr Hudson?"
Jonathan ordered the drinks and some sandwiches. They moved to a comer table and sat down. The other guests continued to talk.
Nobody had registered their arrival, apart from two young men standing at the bar, drinking whisky. One had nudged the other and then they had both looked at Elvira for a second or two.
"You've made an immediate impact," said Hudson.
Elvira's eyes glazed over.
"James", she said, taking a very delicate bite of the ham sandwich, "don't I always?"
Hudson raised his glass of bitter in mock salute. This young woman could do well in the Yard. Probably too well!
"Cheers," said Jonathan, unaware of the undercurrent. "Where do we go from here?"
"The plan hasn't changed," said Hudson. "We meet Mrs Smith at two and then I'll look around whilst you keep her occupied with other things. Before we leave here, though, I want a word with the landlord." He went over to the bar, ignoring the two young men, and rapped on the counter.
"I say," he shouted. "May I have a word with the landlord?"
The other guests looked up for a moment and then carried on talking. The two young men sauntered off. The barmaid appeared, looking slightly worried.
"Mr Dickinson ain't available right now. What's the problem, sir?"
"Oh, no problem, no problem at all." Hudson smiled broadly. "I'd just like to know whether you do bed and breakfast. You see, I'm looking for a little pied a terre in the country and Challingstead seems to fit the bill."
Elvira winced, as did Jonathan. The barmaid didn't. She disappeared and suddenly Mr Dickinson, the landlord, was there!
"Bed and breakfast, sir? No problem. Double, single?"
"Single," said Hudson. "Probably for Tuesday - but I'll confirm. Here's my card."
They talked a little longer while Dickinson noted the details.
"James," said Elvira, as Hudson returned. "What on earth are you up to?"
Jonathan looked equally surprised.
"Nothing to worry about," said Hudson. "Just a hunch of mine."
Mrs Smith was waiting at the Hall when the Bentley drew up. After the introductions, they all trooped into the house. It was a large, rambling 17th century building, solidly built with several rooms on either side of the main hallway. As they passed the foot of the staircase, Mrs Smith caught her breath sharply. Jonathan nodded to Elvira and Hudson.
"This is where Mrs Smith found my aunt. I think I mentioned to you that she died as a result of falling down the stairs."
"Yes, what a shame. How old did you say she was?" inquired Elvira. "She would have been 75 in July," said Mrs Smith. "But she was as fit as a fiddle. I can only think that she tripped on the carpet up there. In fact, I often mentioned that it was a hazard but she was very attached to it. She and her husband had bought it in India or somewhere, when they were on holiday. But you'll want to look around, won't you. I'll go and make a pot of tea. If you've got any questions, I'll be in the kitchen. This and that still needs cleaning."
When she'd gone, Jonathan turned to the other two.
"Well, Mr Hudson. Perhaps Elvira and I should take a look at the downstairs rooms, whilst you tackle upstairs. Those books and manuscripts I told you about were kept in a cabinet in one of the spare rooms. You can't miss it, last one on the left."
"Good idea," replied Hudson. "See you in a bit."
He went up the stairs slowly, pausing at the top to inspect the carpet. Quite true. It wasn't anchored to the floor in any way. If someone were moving a little too fast, they could easily slip and fall. But then Mary Bruton had obviously been aware of the danger. She would have been careful, would probably have held on to the banister rail as she turned the corner. Hudson began to check the various rooms. The bedroom was spacious with a large window looking out onto the lawns and a walled garden. Along one side there were several sheds. She must have had a gardener, he thought. You can't look after that lot by yourself, not at 75. He turned and studied some of the pictures. There was nothing of any real value; most of them seemed to be family photos. One of them showed a man and woman with a young lad, standing next to a Rolls Royce; no doubt Mr and Mrs Bruton - and the boy? He looked more closely. Yes, there was a definite likeness. It must be Jonathan.
Hudson continued his tour of the rooms until he came to the one he was most interested in, the last on the left. It had obviously served as a study. There were several bookcases, a bureau and three chairs, and the cabinet Jonathan had mentioned. The key was in the lock of the glass doors. The drawers underneath were closed. Hudson pondered for some time before putting on a pair of latex gloves. Who knows, there may be other fingerprints besides those of Mary Bruton, Mrs Smith and Jonathan Keeble. He opened the drawers carefully. Empty. He turned his attention to the bureau, which was open, lid down. The usual office equipment - envelopes, stationery, a pair of scissors and a small, elegant tray with four fountain pens, all of the same make. Hudson picked one up, expensive, no doubt. He noticed that they all had the same monogram engraved on the clip, CEB. Probably Mary Bruton's husband. He replaced it and started to leave the room when something else caught his attention, something silvery next to a sheaf of papers. A cigarette lighter, also expensive by the looks of it. He picked it up, very carefully. On the underside there was a hallmark, indicating that it was solid sterling silver. It also had a monogram engraved on it - not CEB but PWM.
"Well, well," murmured Hudson to himself. "I wonder who this belongs to."
His thoughts were suddenly interrupted by a call from downstairs. "Mr Hudson - we're finished down here. Do you want a cup of tea?" He was about to put the lighter back on the bureau and then hesitated. No, no! Intuitively he knew that this lighter did not belong in the house. He slipped it into his pocket and went to the staircase. Jonathan was standing in the hallway with Elvira.
"A cup of tea would go down very well," shouted Hudson. "Preferably Earl Grey!"
"Afraid I can't guarantee for that. But I do know that Mrs Smith's scones are absolutely superb."
They headed for the kitchen.
The tea was a disappointment for Hudson. Tea-bags! Of the worst kind! The scones, however, were remarkably good and he made a mental note to get hold of the recipe for Miss Paddington. When they had finished, Jonathan escorted the others to the front door.
"Thank you so much, Mrs Smith. It is very kind of you to help me out. It'll take a while until everything is sorted, of course - and I do want you to keep an eye on things. But we arranged all of that on the phone, didn't we?"
"No problem, Mr Keeble," said Mrs Smith. "You know how grateful I was that Mary - I'm sorry - we were on first name terms..."
"My dear Mrs Smith," said Jonathan. "Let's not worry about formalities. To me she was Aunt Mary - to you just Mary. That's fine by me."
Hudson coughed, looked at his watch and then towards the Bentley. "Your scones, Mrs Smith, were excellent. Perhaps you can give me the recipe some time. We must be going, though - we have to report the details to the company tomorrow. I don't think there'll be any problems, will there, Miss Elliot? You had a good impression of the downstairs and I've made a list of what's important upstairs."
Turning to Jonathan, he added, "We should be able to give you an estimate for the insurance premium fairly soon, Mr Keeble. If necessary, we'll pay another visit to check up on any particularly valuable items. The alarm system is still switched on, of course? Oh, and I didn't notice any smoke detectors. If you decide to sell up, you should get those installed. Always makes a good impression on prospective buyers. I suppose your aunt didn't smoke..."
"Oh no, Mr Hudson," said Mrs Smith. "As far back as I remember neither Mr Bruton nor Mary ever smoked. Nasty habit, they said."
As they went out and got into the Bentley, Hudson waved his hand towards the house.
"You know, Mr Keeble. You're a lucky man to inherit such a marvel-lous property. Beautiful gardens. Mrs Bruton must have had a gardener. Surely she didn't do everything herself?"
Mrs Smith chimed in once more, glad to be of further assistance. "Certainly not. Patrick was always in and out, whenever anything needed to be done." Mrs Smith smiled. "Yes, Paddy Morgan will be only too pleased to continue. I'll take care of that, Mr Keeble. He's done the lawns and garden for years."
Hudson stiffened. Paddy Morgan?
"Was he often in the house?" He bit his lip. That was the sort of question asked by police officers, not insurance valuers.
"Not that I know of," replied Mrs Smith. "You see, he's got his 'den' - that's what he calls it - next to the potting sheds. The lawnmower, all his tools. When he's finished he stretches out on the deckchair, looks out over the lawn and smokes a couple of cigarettes. Whenever I come by he says, 'Y'know Mrs Smith, dis is my kingdom' - he's an Irishman through and through, you see. My stock reply is 'Yes, Paddy, but if you drink any more of that Irish whisky you won't be able to enjoy it much longer.' He's a good worker, though, been here for years."
"Salt of the earth," said Hudson and ushered the others into the car. "My grandfather was Irish, you know. When I was a lad he always told me that Hudson was an old Viking name. Son of Hud and all that. Well, it's been a great pleasure talking to you Mrs Smith. Perhaps you can pass on the recipe for the scones to Mr Keeble?" He turned to Jonathan.
"I'm sure Redfearns will make you a good offer for the insurance. Let's talk about the details on the way back."
With that, they swung out of the drive and headed back towards London.
When they were on the motorway again, Elvira looked round to Jonathan, who had taken the back seat again.
"What do you think, Jon? Does Inspector Hudson owe us an explanation?"
"Indeed he does. I have a very strong feeling that he's privy to information that we are unaware of, Elvira."
Hudson chuckled.
"Now, now, boys and girls. No need to raise your hopes. It's just that I've come across two pieces of information that might, possibly, indicate that Mary Bruton did not die as a result of tripping on that carpet. By the way, it was Persian, not Indian."
Elvira looked straight ahead and said, in a rather icy tone, "James, stop playing around. Where do we go from here?"
The man could be absolutely infuriating at times!
"OK," said Hudson. "What we do is the following. You, Elvira, will find out tomorrow, through sources that I do not wish to hear about, whether any of the books or manuscripts have been sent to auction. Remember, Mrs Bruton may well just have given them away - as she did with the bible. You do have contacts to auction houses, I assume?"
Elvira flicked her hair. She resented Hudson's implied criticism. Of course she had contacts, more than he could imagine!
"Yes, I do." The tone was even icier than before.
"And you, Mr Keeble, will simply do nothing for a couple of days. That is, apart from obtaining Mrs Smith's recipe for the scones." Hudson was really enjoying himself. He had a couple of clues, not much, but his experience told him that a serious crime might well be solved in the next few days. His only worry was that Sir Reginald might not take advantage of the good weather and decide to return to the Yard on Monday at 8 a.m. precisely.
After they'd dropped Jonathan off, Hudson drove on with Elvira to his flat. As they pulled into the courtyard, he saw a curtain drawn back.
"Miss Paddington's taken possession again. I wonder what her weekend was like?" he said.
Elvira slid into her car before Hudson had time to invite her in. She liked Miss Paddington but she also knew that the housekeeper was trying very hard to "arrange" something for HER James. Rather like an ageing mother would do for her favourite son. Elvira's intuition told her to play it "cool". There were much more important matters to contend with at the moment. Smiling politely, she thanked Hudson for the "day out in the country".
"As soon as I have any news, I'll be in contact. Would it be inconvenient if I rang you up at work?"
"Quite OK," replied Hudson. "I've finally found out which buttons to press on the mobile, so you can always reach me on that. As I said, I can't possibly do anything officially at the moment - no crime has been registered. So it all depends on you, Elvira - and your contacts. I'll be in the office from 8 onwards - huge backlog of paperwork to sort out."
Elvira revved up the car, slid open the window and waved farewell. Paperwork, she thought. That's something Redfearns isn't really interested in. What they want is results, and if Jon gets his books and manuscripts back, and Hudson and Co. apprehend a criminal, then the company will have found a new customer. As she drove back to her flat, she idly wondered what sort of insurance premium a millionaire like Jonathan Keeble would be prepared to pay.
Chapter five: The Trap Is Laid
Shortly after 9 on Monday morning Hudson popped into Sir Reginald's office.
"Sir Reginald back in town?" he asked the secretary, waving a sheaf of papers ostentatiously. Hudson, early on in his career, had realized that the key to success was an amicable and slightly conspiratorial relationship with his immediate boss's secretary. That way you were always one step ahead.
"No need to worry, Inspector Hudson," the secretary responded. "He rang through at 8 on the dot. Said his back was playing him up. Sir Reginald won't be in till Wednesday and has taken sick leave, so you've got all the time in the world to finish that last report. Oh, and don't forget to put in the claim for expenses. Four-star petrol for a Bentley doesn't come cheap, you know."
Winking at her, Hudson replied, "You really are a star, you know - and by the way, if a Miss Elvira Elliot rings through, I'll be in my office - calculating the gallons of petrol I've paid for in the pursuit of justice." Smiling, he left Sir Reginald's office. Well, the secretary obviously knew that the "old girl" drank petrol in the same quantities as an old Irishman drank whisky. And then he thought of Paddy Morgan. Could the gardener, who was, according to Mrs Smith, the sort of person you might describe as "a faithful old retainer", really have thrown Mrs Bruton down the stairs and then stolen valuable books and manuscripts? Impossible! More than his job was worth! No - that solid silver lighter had never belonged to Paddy Morgan. But who was PWM, then?
Hudson was working through some old reports and totting up mileages for the Bentley when Elvira rang through. "We're onto something, James. Quite definitely. You remember, in Jon's list there was an Oscar Wilde play, first edition, signed by the author - and a first edition of 'Alice's Adventures in Wonderland' with annotations and comments by Carroll plus a covering letter to a col-league."
Hudson's voice became a drawl.
"Vaguely remember - it was fairly late when I read it through."
"Well," said Elvira, and Hudson registered the note of triumph in her voice. "They both appear in Gilford's latest catalogue, due to be auctioned in July."
Hudson pushed the papers on his desk to one side.
"Interesting", he said drily, "but I need more than that to justify my travelling expenses to Challingstead."
Elvira was too excited to be annoyed.
"I contacted Gilford's immediately. I know one of the staff there early well. Of course he couldn't give me the name of the client - professional misconduct and all that - but, after a little more probing, he did give me a piece of advice. Got your pen ready?" Elvira was quite good at heightening the tension, thought Hudson. However, he knew that he was better.
"Yes", he said, "I think - oh blast, it's run out of ink! Hang on, I've got a pencil somewhere."
Let's keep her on tenterhooks, he thought, and rummaged around in the drawer loudly, muttering to himself.
"Here we are," he announced triumphantly. "I'm ready, waiting and all ears."
"My contact", Elvira relished the word, hoping to impress Hudson, "suggested that if I was looking for old and rare books I might just pay a visit to Blakeney's. I'll spell it!"
"No need," said Hudson, looking idly at a pigeon sitting on the windowsill. "Blakeney's - I think I got that, Elvira. The address would be useful, though."
A sigh of exasperation came through the receiver.
"OK, you win, James. Blakeney's is an antique dealer just off King's Road, the Parson's Green end. The address is Galvina Road, number 2." By this time, Hudson was already thumbing through his copy of the London A-Z.
"Got it!" he exclaimed. "Excellent work, Elvira. I'm on my way!"
"But what about me, James? I want to be there if..."
"Sorry, young lady. This case is a little too serious for amateurs. I'll be in contact."
Hudson replaced the receiver and rushed out of his office.
"I'll hand in those expenses forms as soon as possible. I have to check up on something urgently," he informed Sir Reginald's secretary in passing.
Elvira, in another office just two miles away, was seething. Hudson had implied that she was an amateur. He'd also called her a young lady!
Thirty minutes later, Hudson opened the shop door of number 2, Galvina Road. "Blakeney's: Dealers in Antiques and Old Books." The name somehow inspired confidence, as did the combination of colours - deep brown and racing green. This was definitely not a second-hand shop. Parson's Green, like Notting Hill, had obviously come up in the world. Hudson remembered only too well the seedy atmosphere that had existed in the late seventies, when he had first started in London. A bell tinkled somewhere in the back. Hudson spotted a CCTV camera in the corner.
"Good afternoon, sir. Can I help you?"
"Ah, hello. Yes, I was just passing by and saw the shop. Thought I'd pop in and browse a little. I'm not in town too often, you know." Hudson had affected a rather plummy accent. As an experienced detective, he knew how to ingratiate himself.
"Please, feel free," said the man who had emerged from the back room. "Is there anything you're looking for in particular?"
Hudson scented tobacco smoke and saw a couple of cigarillos stubbed out in the ashtray.
The man continued, "We tend to deal in antiques - furniture, paint-ings, prints and so on - as well as rare books and manuscripts. The books, of course, are mostly from around 1800 onwards."
Hudson looked around the display cabinets and the bookshelves. "From the look of things, Mr Blakeney, this could be a real eldorado for me."
"Ah, I'm afraid, sir, that you've got the name wrong. Mr Blakeney died some time ago. I was his assistant for, oh, must have been about ten years at least, and then took over the business. The antique trade had really begun to boom by then. Portobello Road, television shows, tourists - it would have been madness to change the name."
"Of course," said Hudson. "I just assumed- because of the sign over the door."
"May I introduce myself, sir. Manning, Peter Manning. Hang on, here's my card."
Manning gave Hudson his card. Hudson took it and continued in his plummy accent.
"Well, Mr Manning, as I said, I'm seldom in London. I live up in the Lake District and come down occasionally for a chat with the bank manager. I'm always on the lookout for good collectables in the book field, particularly 19th century stuff."
Manning turned to the bookshelves, waving a hand.
"Yes - well, I don't think you'll find too much here at the moment. Have you tried the auction houses?"
"What do you mean?" said Hudson, perhaps a little too sharply. Manning adopted a conspiratorial stance. "If you're really interested in that particular period, Mr - er...?"
"James," said Hudson. "I'm afraid I don't have a card."
"Mr James. Well sir, I would advise you to take a look at Gilford's latest catalogue. One moment, I've got a spare copy somewhere." Manning opened a drawer, took out a book and then pointed to a couple of entries.
"Look Mr James, here! Wilde - and Carroll! Priceless! Both signed by the author!"
Hudson feigned surprise.
"Mr Manning, are you saying that YOU supplied these lots? Some-thing like this is very rare indeed. Where on earth did you find them?"
"Mr James, if I told you my source, I'd be out of business. Let's just say someone who didn't know very much about rare books came into the shop and asked me to make an offer. Part of a legacy, she said. I decided to go to Gilford's to test the market. Others will follow in the coming months."
Hudson looked suitably impressed. He couldn't be absolutely sure, but there was something about Manning, perhaps the rather leering look he had, that indicated that his story wasn't true. Now was the time to retreat and compare notes with Elvira. He glanced at his watch.
"Good heavens, is that the time! I'm due in Hampstead in half an hour. Are you open tomorrow? I really would like a little more time to browse."
"You've got my card," grinned Manning. "9 till 6 - otherwise just ring up on the mobile."
He opened the door for Hudson and watched him get into the Bentley. "Take the North Circular", he advised, lighting up a cigarillo, "there won't be too much traffic at the moment."
Hudson drove off towards Hammersmith - but he wasn't interested in the North Circular. He drove straight back to Baker Street.
Miss Paddington was fiddling around in the kitchen, preparing dinner, when Hudson opened the front door.
"James, you're back early today. Is Sir Reginald 'otherwise occupied'?" she inquired, a touch of irony in her voice.
"Miss Paddington, you constantly amaze me. Other people put two and two together and make five. You, however, always come up with four. How do you do it?"
"Oh, just female intuition," she replied breezily. "Plus years of reading all kinds of crime novels. It's very difficult to pull the wool over my eyes, you know. However, dinner won't be any earlier, unless Scotland Yard has developed a new way of roasting a leg of lamb." When Hudson heard the word "lamb" he adopted a dreamy expression and rolled his eyes.
"Sounds marvelous, Miss Paddington. I have to make a couple of phone calls and then check up on a few things. I think I've almost solved the Challingstead mystery."
"Really?" said Miss Paddington. "And? Is it murder?"
She took out the carving knife and placed it very carefully on the table.
"We'll leave that to the Crown Prosecution Service," replied Hudson. "It would be most unwise to jump to conclusions, Miss Paddington."
Hudson went into the study. His first call was to the Red Lion in Challingstead. The landlord answered the phone.
"Ah, hello Mr Dickinson. Hudson here. You remember? I asked about a room yesterday."
"Yes, of course, Mr Hudson. What can I do for you?"
"Something's cropped up with the estate agent, so I won't be able to book anything until next week - but you did say that you don't get too many overnight stays, didn't you? There'll be something free next Monday or Tuesday, won't there?"
"No problem, Mr Hudson. As I told you, we only have about four or five bookings a month. I'm even thinking of closing the bed and breakfast side down. The last guest did a runner, as I mentioned. That's why I have to ask for a deposit."
"Yes, I remember," drawled Hudson. "What was his name again - Mainwearing or something like that..."
"Manning!" said Mr Dickinson. "If I had the bugger's address I'd sue him. 80 quid he owes me."
Hudson resisted the temptation to ask when this Mr Manning had been in Challingstead. That could be checked later. But he was almost certain that it must have been Thursday 3rd April.
He chatted with Mr Dickinson for a few seconds longer and then rang off.
His next call was to Elvira Elliot. Her response was civil but in no way as polite as Mr Dickinson's.
"Yes, James. What can I do for you?" She was still angry about the way she'd been treated earlier in the day. Hudson read the signs. "Elvira! I hope you're not offended. I couldn't involve you until I was sure, there'd be no danger. Listen, Blakeney's is now run by a Mr Peter Manning - and I'm almost 100 per cent sure that he's our man. I've arranged to meet him tomorrow and I want you to be there with the list of everything that's missing. I'll also have a couple of officers waiting outside, just in case there's trouble."
Elvira's attitude did an about-turn.
"I knew it, I knew it!" she exclaimed. "Where shall we meet?" Hudson breathed a sigh of relief. Elvira Elliot was a professional - she bore no grudges.
"Parson's Green tube station. Blakeney's is just round the comer. 10 o'clock, OK?"
"I'll be there at 10 sharp."
Just as Elvira rang off, Miss Paddington entered the study.
"James," she said. "The lamb needs carving!"
Standing up, Hudson smacked his lips.
"Right, Miss Paddington! Just let me get that bottle of red wine I've been saving!"
Hudson was waiting outside the station when Elvira's sports car screeched to a halt. He got in and immediately directed her to Galvina Road.
"No Bentley, James? No 'old girl' today?" She smiled as she took the comer a little too sharply for Hudson's liking. At the same time she noticed a patrol car parked a little further down the road. They pulled up outside Blakeney's.
"We'll play this by ear," whispered Hudson. "Have you got the list?" Elvira nodded.
They got out and looked at the display windows. Hudson opened the door and ushered Elvira in. She felt a rush of adrenalin.
The bell tinkled and Manning came out of the back room.
"Aaah, Mr James. Good to see you again. Have you had the chance to look through the Gilford's catalogue? Suitably impressed, I hope?"
"Very," replied Hudson. "I'll bid, of course, and I've brought a friend of mine along. Miss Elliot, Mr Manning. You said yesterday that several other books will be appearing on the market soon. Perhaps we can make a deal right now? That is, if they're what we're looking for."
Manning smiled. In fact, he grinned in anticipation.
"Mr James, I have them right here in the office, in the safe. We're talking about first editions, you know."
Manning went into the back whilst Hudson wandered around, looking at the various showcases and bric a brac on display trays. He slipped the cigarette lighter onto one of them.
"Here, just as a taster," said Manning, returning to the front. "This is a Beatrix Potter, the private edition from 1900. Also dedicated. We're talking about 50,000 pounds here, Miss Elliot."
Elvira caught her breath.
"My goodness, that does look interesting. Marvellous condition! Oh, James - did I ever tell you how I swooned over Peter Rabbit as a child. He was my hero."
Manning rubbed his hands together in satisfaction. Hudson, frowning, noted Elvira's slip of the tongue. Perhaps not quite so professional. Thank God he'd told Manning that his name was Mr James. Too late now, anyway. Time for the coup de grace.
But Elvira continued in a very cool tone of voice.
"You haven't got anything by Dickens, have you?" she asked. "I'm a distant relative, you know, and I'm still searching for an early copy of 'Copperfield'."
Now it was Manning's turn to frown. Something was wrong here! How could she know that he had a first edition of "David Copperfield"? Or was it just a coincidence?
Hudson returned to the counter.
"I'm quite interested in that lighter on the tray, Mr Manning. It caught my eye yesterday," he said. "Nothing to do with books, of course, but I'd like to buy it. What's your asking price?"
He pointed to the lighter. Manning was evidently quite shaken.
"My God," he exclaimed. "No, no. This isn't for sale. You found it here? Amazing! This is my lighter. Here, you can see the monogram. PWM. I've been looking for it for weeks. Suppose I put it down somewhere on one of these trays just as a customer came in. You know how it is, Mr James."
Manning was red in the face, sweating and talking too much. He fumbled in his pocket for a cigarillo. Hudson knew only too well when someone was desperately trying to cover up.
"Unfortunately for you, Mr Manning, I know exactly how it is. And, interestingly enough, I didn't find this lighter on the tray before us. Ever heard of a charming little village called Challingstead, Mr Manning?"
The antique dealer took a step backwards, waving his hands in a futile gesture of defense. Hudson continued, his eyes becoming colder and his voice more menacing.
"I'll tell you where I found it, Mr Peter William Manning - oh yes, I've checked up on the middle name. I discovered this lighter on the desk lid of a bureau in Challingstead Hall. And, for your information, the name isn't James. It's Hudson - Inspector Hudson of New Scotland Yard."
He produced his police identity and watched as the colour drained out of Manning's face.
"Mr Manning, I'm arresting you for the murder of Mary Bruton and the theft of a number of valuable books and manuscripts. I must warn you that you need say nothing, but anything you do say may be taken down and used in evidence against you."
Manning slumped into a chair, loosening his collar and tie.
"I think I need to contact my solicitor," he croaked.
"We'll arrange all that later. Elvira, could you call in the two officers and ask them to escort Mr Manning down to the Yard? Oh, and by the way", he said, turning to Manning, "I'll need those keys."
Manning handed them over. He obviously realized that the game was up. As he was being led away, Hudson called out as politely as he could.
"See you tomorrow, sir. And don't worry yourself unduly. I'll just check the safe and then shut up shop."
He didn't bother with the safe. Tomorrow was another day and nothing would go missing. He swiftly turned round the sign on the door from OPEN to CLOSED and locked things up.
Elvira was dumbfounded. Everything had happened so fast.
"James! James, how did you get hold of that lighter?"
Hudson put a finger to his lips.
"Mum s the word," he whispered. "If I told you that it accidentally fell into my pocket on Sunday, upstairs in Mrs Bruton's study, you probably wouldn't believe me. And I certainly don't want Mr Keeble accusing me of theft. It'd ruin my career! Now, you drive me down to the office and then I suggest that you and Jonathan come round for an Irish stew this evening. Leftovers from yesterday's lamb, but Miss Paddington can produce miracles."
The celebration meal was in full swing. Hudson had dug out his best sherry and a couple of bottles of good red wine. Miss Paddington had done wonders with the stew. They were all seated around the dining table drinking a glass of white port with an ice cube in it. Jonathan opened up the postmortem.
"So, Inspector. What did this Mr Manning have to say for himself?" Hudson lit up a cigar. Miss Paddington gave him a look of stem rebuke and huffed and puffed a little, looking at the curtains. She disapproved of smoking, but then James had just solved a major crime.
"All very straightforward," said Hudson. "It turns out that Manning had grown up in the next village. As a young lad he'd delivered papers to the Hall - this was when your great-uncle was still alive. Mary Bruton had taken a fancy to him. Reliable chap, wanted to get on in the world etcetera. Occasionally she'd invite him for tea and show him around the house. After he'd established himself at Blakeney's he remembered, only too well, that the Bruton's had a collection of rare books and manuscripts. He rang up Mary in late March and asked whether he could view the collection again, possibly to make an offer. He booked into the Red Lion, left his luggage and then went up to the Hall. Mary, of course, was only too pleased to see him again, showed him everything - but she didn't want to sell. She'd already donated that bible to the local church and she wasn't interested in money, anyway."
Miss Paddington squirmed in her chair. She disliked Hudson posturing.
"James!" she said sharply. "Get to the point! And I want to know what part Miss Elliot played! You seem to work well as a team."
"Sorry," said Hudson, unaware that Miss Paddington was a very subtle matchmaker.
Elvira giggled. The implication was not wasted on her. Hudson continued.
"There was an argument. Manning wanted to buy the collection, Mrs Bruton didn't want to sell. She told him to leave. He followed her to the landing, where, he says, she slipped on the carpet. I think he pushed her, but a clever lawyer may just get him off with manslaughter. Anyway, once Manning realized that Mary was dead, he scooped up the collection and fled. His two mistakes were..."
Elvira interrupted, anxious to show that she had understood every-thing.
"One, he forgot about his lighter and two, he was in such a panic that he drove straight back to London. He'd left no address at the Red Lion, they only had his name. Nobody could have traced him. The perfect crime!"
"Inspector Hudson," said Jonathan. "I really am indebted to you." Hudson blew out a perfect circle of tobacco smoke.
"Jon," he said. "Let's use first names. I'm James."
"Fine by me, James - but there's one other thing. I now know who the 'old girl' is, but how did you happen to come by her?"
Miss Paddington wasn't quite sure what Mr Keeble meant. She began to clear up the plates. Elvira made a valiant attempt to defuse the situation.
"That reminds me, Jon," she smiled. "Tell me, how DID you get my mobile number?"
There was a sudden embarrassed silence, fortunately interrupted by the telephone. It was 9.30 in the evening. Miss Paddington pursed her lips and went to answer.
"Yes, who is it at this late hour?"
Her expression changed from anger to submission. She took the phone to Hudson and gently whispered "Sir Reginald".
The growl was unmistakable and registered by the others at the table. "HUDSON! Is that you? Tomorrow! 8 a.m.! My office!"
Accordion Sample Description
Conclusion
Above is a summary of Bloody Legacy. Hopefully, by Learn English Through Story, we have contributed to help you learn English in general, and the application in communication in particular, become more accessible and more interesting. Good luck with your studies and soon!
In addition, you can refer to many other basic English test preparation materials, such as English words, English grammar, English sentences, … are constantly updating on Englishtivi.com.
Subscribe to the English tivi channel on Youtube to improve your English learning skills!