In recent years, along with the continuous development of information technology, learning English online at home is loved by many young people and is becoming a strong trend. Online learning not only helps you save money but also can be flexible in terms of time. However, not every website can provide you with the necessary helpful knowledge. Here are the TOP 20 Websites to Learn English Online FREE in 2023 to help you learn English online most effectively.
TOP 20 Websites for learning English Online
ELLLO – English Listening Lesson Library Online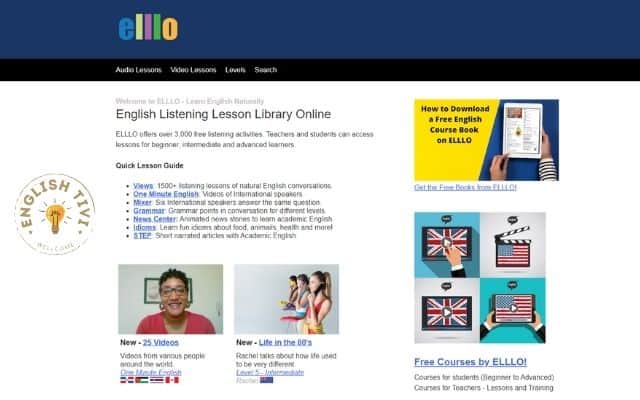 ELLO is an online English learning site specializing in listening skills. You can listen to talks from speakers worldwide on a variety of topics such as sports, travel, entertainment, etc.
There are also subtitles below, which are very convenient for learning English. There are also many interesting English songs and video clips.
-> Go to Elllo
ManyThings.org – Interesting Things for ESL /EFL Students
Many Things has many games about crosswords, puzzles about proverbs, idioms, motivating you to have more excitement and passion in learning. In addition, Many things also have an extraordinary page on pronunciation with methods to help practice speaking better.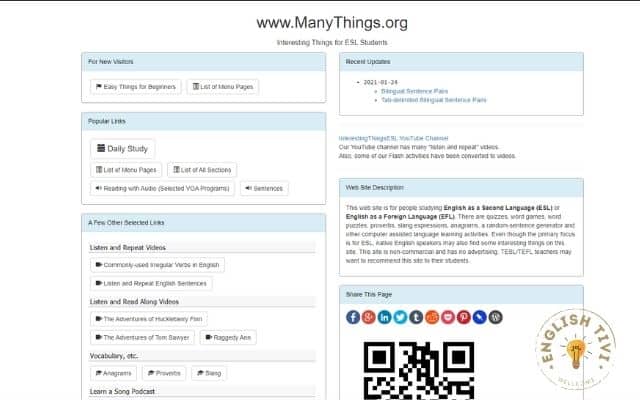 -> Go to ManyThings.org
British Council: Learn English Online
British Council is an online English learning website of the British Council – part of the British Cultural Affairs Department. The website provides information on teaching and learning English for students, teachers, and young children. Here, you can take tests, listen to music, play games in English.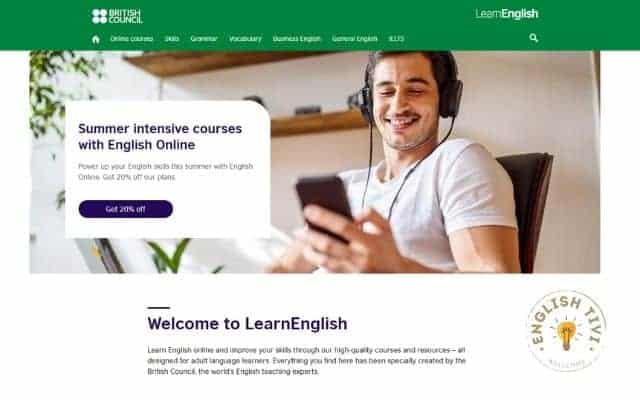 -> Go to British Council
VOA Learning English on YouTube
VOA Learning English is one of the best online English learning websites at the moment. Short articles with the standard pronunciation of readers will help you improve your specialized English and improve your listening skills exceptionally effectively.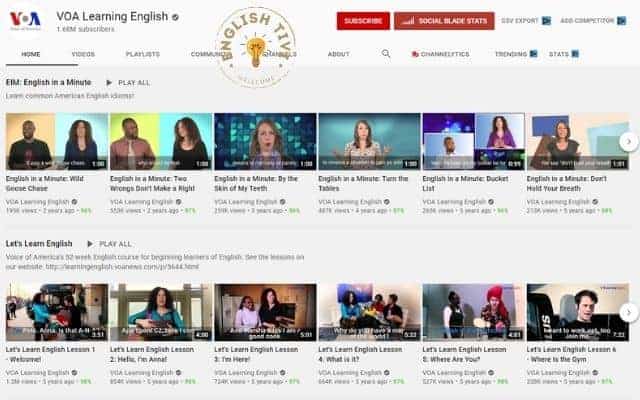 -> Go to VOA Learning English on YouTube
Dave's ESL Cafe
Dave's ESL Cafe is a forum for teachers and students around the world. The website has lots of quizzes and precise grammar explanations. At the same time, this is also a place for students/students to discuss problems related to English freely.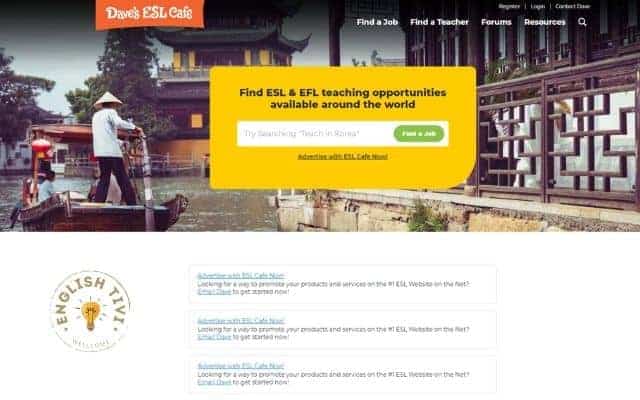 -> Go to Dave's ESL Cafe
Busuu – Learn languages online: start for free
Busuu provides courses on writing skills, vocabulary improvement, reading comprehension skills, etc. Besides studies, there are methods to learn English by participating in forums and talking and interacting with other teachers. Members come from many countries around the world.
Livemocha mainly teaches foreign languages ​​through online English courses on communication by talking online with members from English-speaking countries.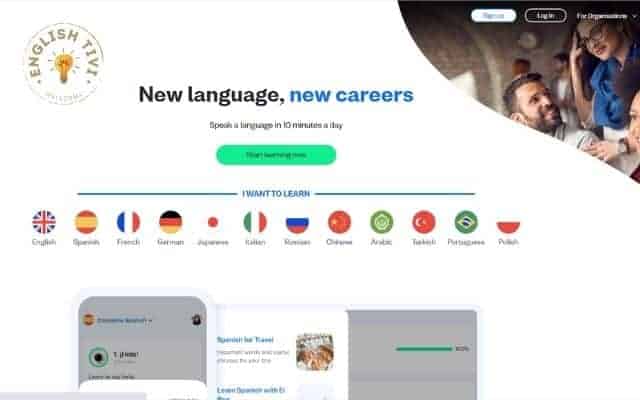 -> Go to Busuu
Exam English – Free Practice for  IELTS, the TOEFL® and TOEIC® tests, and the Cambridge English
Exam English – includes English tests like TOEFL, CPE, KET, etc. Almost all tests for English learners are available on the website. Not only that, but you can also self-test your level in each specific skill such as reading comprehension, listening, grammar, vocabulary, essay writing, etc.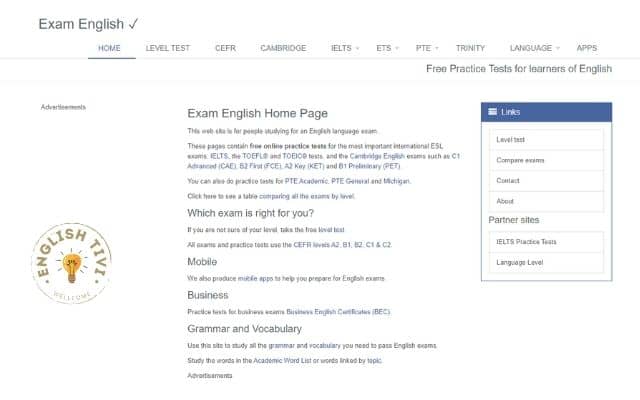 -> Go to Exam English
5 Reasons Why You Should Learning English Online

Learning English online is the best solution for busy people who want to learn foreign languages. When you participate in English courses or refer to the program on the website, you will receive real value ​​​​in your self-study process. Here is some information about this exciting learning method.
Easy World Of English
Easy World of English is a website with an attractively designed, friendly interface with awe-inspiring and beautiful colors. The website allows users to learn pronunciation, grammar, reading, and listening in English through a dictionary with attractive, vivid images.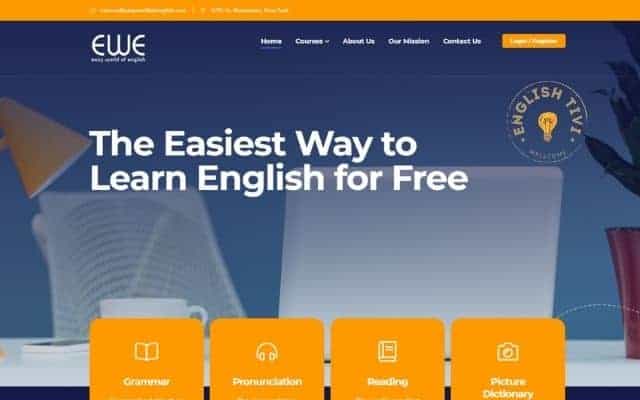 -> Go to Easy World Of English
BBC Learning English
BBC Learning English is a website to learn grammar, vocabulary, pronunciation, learn how to teach English…, in addition, you can also test your English level through online tests and learn how to teach. The most exciting part of this website is "6 Minute English" – you will hear a short English subtitle that can be downloaded to your computer as mp3 and pdf for offline learning.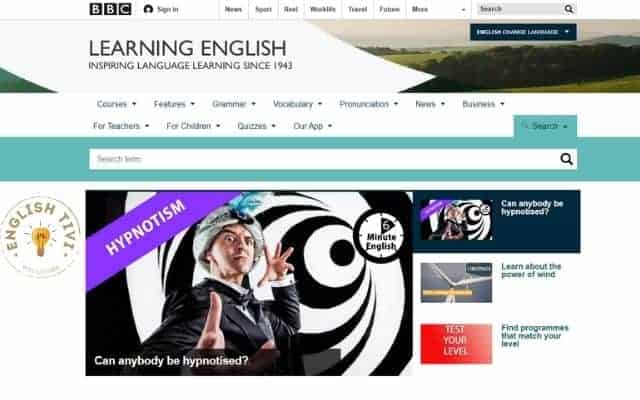 -> Go to BBC Learning English
TV 411
If you love learning English through videos, you can choose TV 411. This website includes a lot of instructional videos on how to read, pronounce, … by native speakers. At the end of each video is a small game to help learners increase their interest.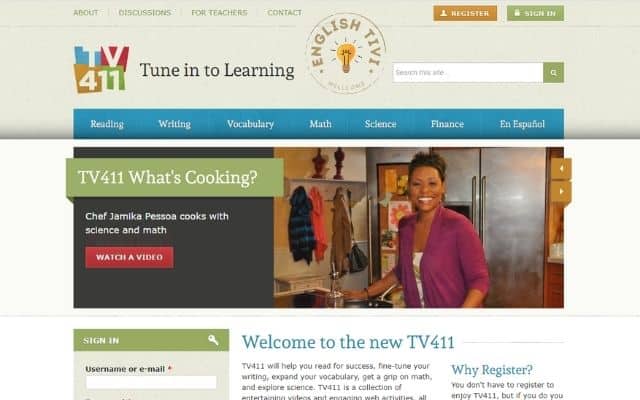 -> Go to TV 411
VocabSushi The Easiest Way to Expand your Vocabulary
VocabSushi helps you learn common everyday vocabulary. To learn a word, you must first understand the meaning, then read an example sentence of that word, listen to a native speaker read the word, then take a test and see if you learn effectively or not. That is the teaching method of VocabSushi.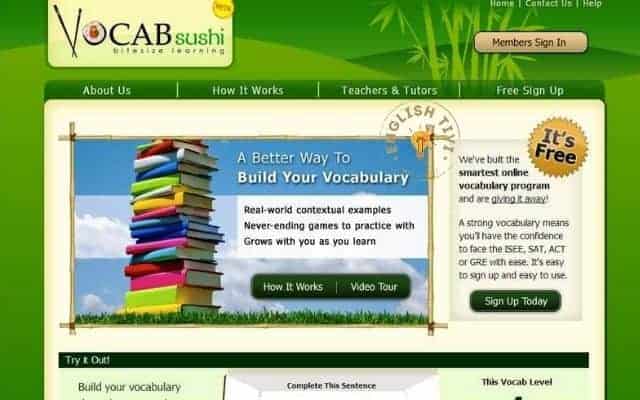 -> Go to VocabSushi
GCFLearnFree.org
GCFLearnFree is a website that helps you learn English through everyday activities. Learners will receive vocabulary groups with topics related to life such as food, work skills, health, … and a dictionary system with very vivid pictures.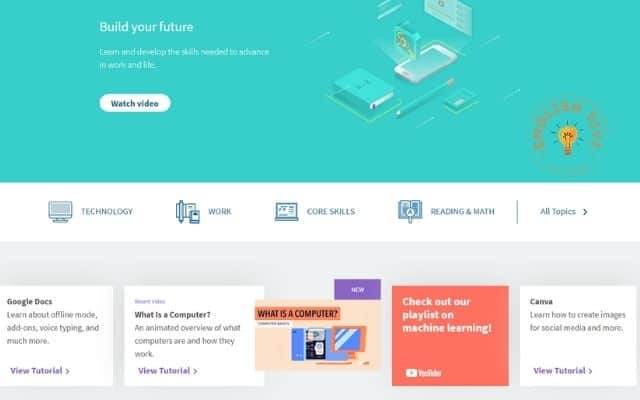 -> Go to GCFLearnFree
Learn English Free – English Learning Online
With 12 years of experience, Learn English Free Online is a rich resource for both students and teachers on vocabulary learning methods with pictures attached, unique English learning tips, many interesting quizzes, etc.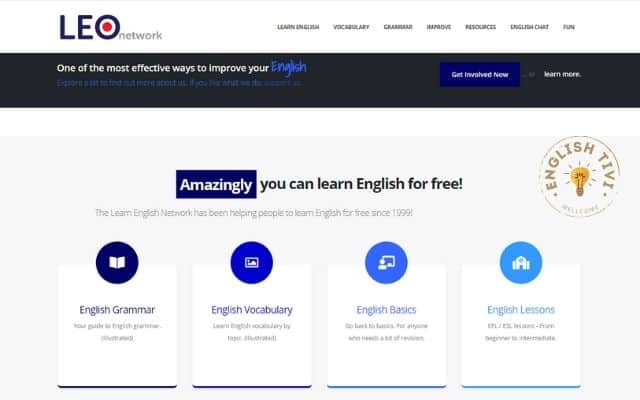 -> Go to LearnEnglish.de
Fun Easy English – Learn English online for free
Fun Easy English specializes in providing basic English knowledge and English teaching tips. The website covers many skills, from pronunciation, grammar to idioms, slang words, writing skills, etc. Most of the sections are taught through videos with subtitles and pictures.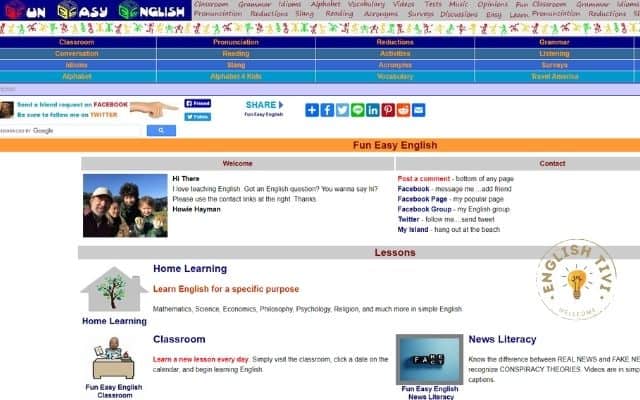 -> Go to Fun Easy English
Top 5 Websites for Learning English in 2022

Currently, the number of websites providing online English learning platforms for students is not uncommon. Here are the top 5 websites for Learning English in 2021.
Lang-8
Lang-8 helps you improve your writing skills. Your writing will be commented on and edited by native speakers. You can also help foreigners learn your language by reading and editing articles for them.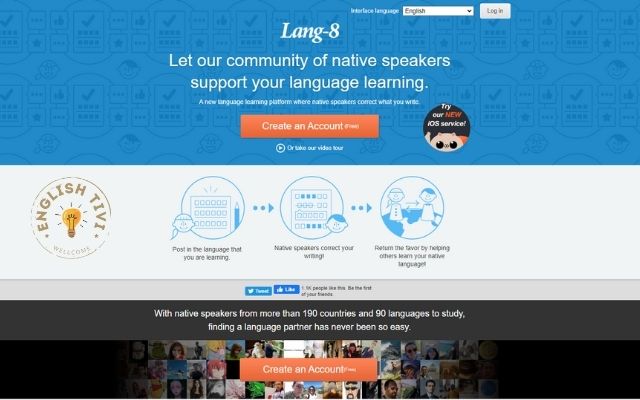 -> Go to Lang-8
TalkEnglish.com
TalkEnglish is a website that helps you practice listening skills very effectively. Besides, the website also provides you with 90 lessons on speaking practice with many valuable tips and sentence patterns.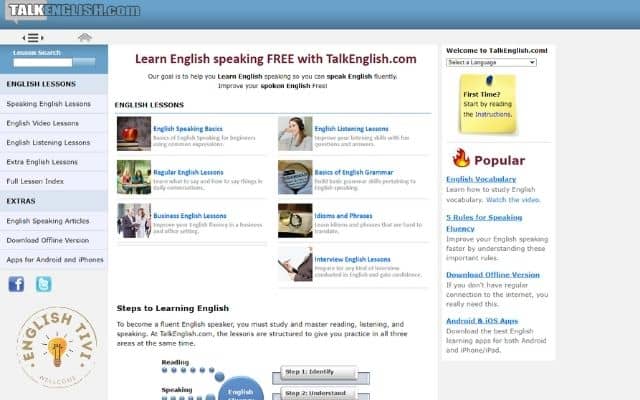 -> Go to TalkEnglish.com
TED: Ideas worth spreading
All TED talks are presented by famous speakers worldwide on a wide range of topics, helping learners improve their listening skills effectively while providing vast knowledge and profound educational philosophies.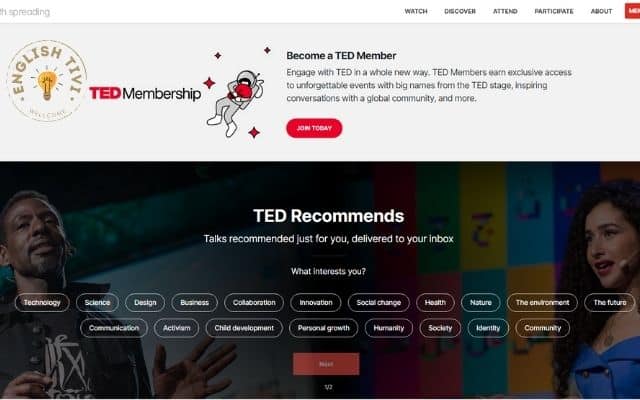 -> Go to TED
English Central
English Central has listening lessons and provides you with highly convenient speech recording and grading based on standard pronunciation. This will help your listening and speaking skills improve very quickly.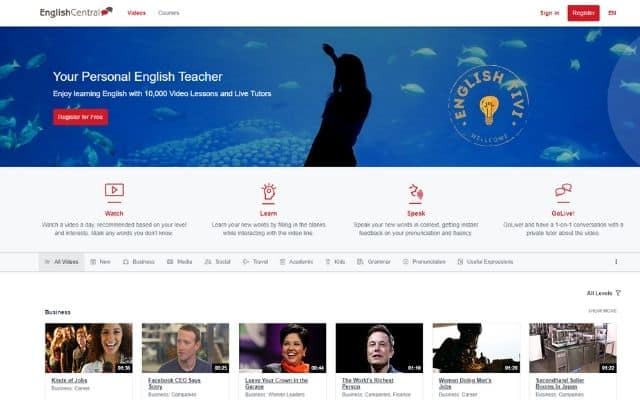 -> Go to English Central
Rosetta Stone – Language Learning
Livemocha mainly teaches foreign languages through online English courses on communication by talking online with English-speaking countries.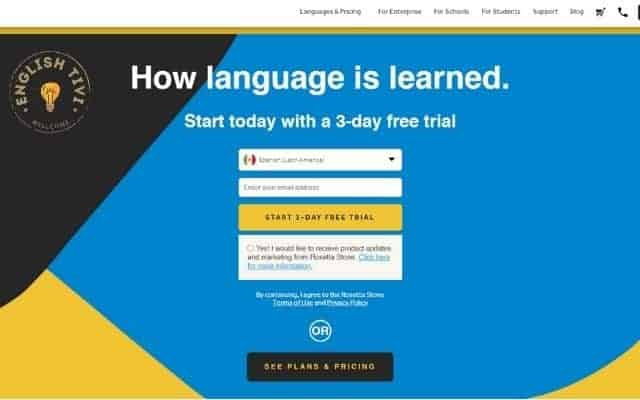 -> Go to Rosetta Stone
Oxford University Press
Oxford University Press is a website that helps learners practice listening, pronunciation, spelling, and grammar skills very effectively. This is the ideal place to study for intermediate-level students and above.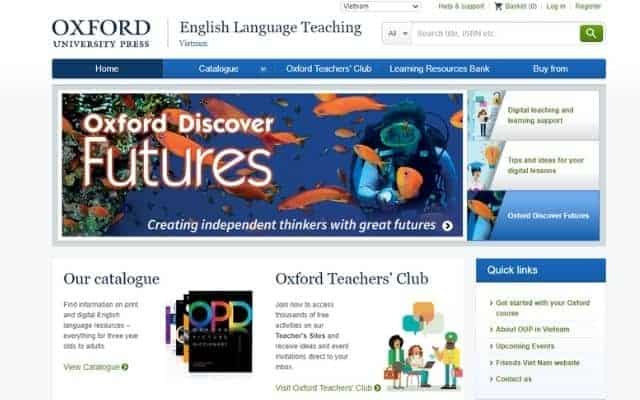 -> Go to Oxford University Press
Conclusion
Above are the 20 Best Website to Learn English Online FREE in 2022. Through this article, we hope to be of some help to you. We wish you all good study!
In addition, you can refer such as English skills, words, grammar, … are constantly updated on Englishtivi.com.
Subscribe to the English tivi channel on Youtube to improve your English learning skills!